Home ownership: Did earlier generations have it easier?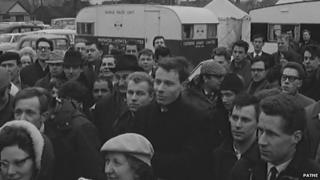 In April 1964, 300 people queued up for four days and nights in a muddy field not far from Heathrow airport.
They camped in anything they could find: canvas tents, Ford Anglias and even deckchairs.
They kept their spirits up by playing cards, or cooking bacon and eggs on portable stoves.
Eventually the first 187 in the queue were rewarded.
In return for a £50 deposit, they secured the promise of a new house on the site, in Sunbury-on-Thames.
It was an era when the country as a whole made a psychological down-payment on the idea of home ownership, an aspiration that has inspired and troubled us ever since.
But did previous generations have it any easier?
Did they have to struggle to afford a home in the way that so many do now?
Brick by brick
Around a dozen of those who queued up in 1964 are still living in the houses they bought that day.
Among them are John and Margaret Webb, who took it in turns to queue on that muddy field.
They agreed to pay £4,600 for their new home, and moved in as soon as it was finished.
"We loved it," says Margaret. "I remember coming in. I sat down here. I couldn't believe it. It was ours!"
Bernard and Maureen Clayton were also enthused by their house, which cost them £4,300, and has now been their home for nearly 50 years.
"We saw it being built, brick by brick," says Bernard.
But affording the repayments was not easy, even then.
"It was difficult," says Bernard, who worked as a photocopier service engineer. His wife worked as a PA.
"If I had 10 bob left over at the end of the week, I thought we'd done well," he says.
But careful budgeting made it perfectly manageable. "We could afford it. We didn't starve, or anything silly like that."
At the time John Webb was earning £20 a week in the army.
"When getting the deposit, we had to twist the bank manager's arm," he says. "He was a benevolent chap, who wore a wing collar. Eventually he agreed to put it down as 'furniture and fittings'."
Second generation
Neil Butson, whose parents queued up in 1964 for a house, was born and brought up here.
He loved the place so much that he decided to move back as an adult.
But by the time he made a purchase, in 1991, the price of houses had soared to £88,000.
At the time mortgage rates were as high as 15%, making his monthly repayments £1,300 a month.
"It was a struggle," admits Mr Butson. "I allowed myself to go out once a week. I didn't have a holiday for two years. But I think in the long run it's paid off."
However, at the time, homeowners could claim tax relief on mortgage payments, which made ownership slightly more affordable.
Mortgage Interest Relief At Source (MIRAS) was finally abolished in 2000 by Labour, who argued that it was a perk for the middle classes.
New arrivals
So how much have the latest arrivals on the estate had to pay for their houses?
Jo Foy and her husband Tim, a police officer, arrived in February 2013.
They paid £325,000 for the house, and their mortgage is £1,500 a month.
That price represents a rise since 1964 of roughly 7,000%.
By contrast, inflation as measured by the Retail Prices Index (RPI) has risen by 1,617% over the same period.
Or put another way, if house prices had only risen by general inflation, Jo and Tim would have been able to buy a house here for just over £73,000.
As it is, they struggle to afford the repayments, which amount to more than 40% of their joint income.
"Half of what comes in goes out in mortgage payments. It's a massive chunk," says Jo.
"We are taking a couple of hundred pounds a month out of savings," she says.
Anne Hicks, a health visitor, is one of the latest arrivals, having moved in in September. She paid £335,000.
The only way she can afford to live here is on an interest-only mortgage, so may never own the house outright.
"To support three children, that's the only way," she says. "A repayment mortgage would be too much."
On the other hand recent buyers have had the benefit of much cheaper loans.
As this estate approaches its 50th birthday, one thing is clear: nothing seems to dull the dream of homeownership, however tough the struggle.