Ford raises annual profit forecast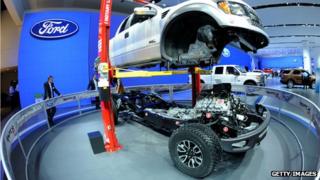 Ford has raised its profit forecast for the year amid continued strength in its home market.
Previously the company said that profits this year would match last year's, but Ford now expects to exceed the $8bn made in 2012.
Third quarter profit fell 22% to $1.27bn (£780m), but that included a $250m charge to reorganise its business in Europe.
Ford's North American unit reported a profit of $2.3bn for the third quarter.
In a statement with the results, Bob Shanks, chief financial officer, said: "We substantially reduced our losses in Europe, set a record third quarter profit in Asia Pacific Africa and saw a $150m improvement in South America."
Losses in Europe narrowed to $228m in the third quarter, an improvement on the same quarter in 2012 when it lost $470m.
According to Mr Shanks, car sales in Europe will see "very, very modest growth" in the near term.
Overall sales in the third quarter rose 12% to $36bn.
Ford's business in North America has been helped by strong sales of its very profitable pick-up trucks.
Ford has been selling more than 60,000 of its F-series truck every month for the past five months, around a 10% improvement on 2012.
Ian Henry, director at AutoAnalysis, said: "At the moment it is quite unusual for a volume car manufacturer to upgrade [its profit forecast]."
In a difficult economic climate, consumers tended to either opt for "better-value brands", such as Hyundai or Dacia, or spend the extra cash on premium brands, he said.
Mr Henry said this meant "volume car" manufacturers, such as Ford, Fiat, or Vauxhall, were typically not so popular.
"Ford must be pretty confident," he added.
Alan Mulally
Speculation has surrounded Ford's chief executive Alan Mulally, who has reportedly been talking to Microsoft about a possible move to replace outgoing chief executive Steve Ballmer.
But when asked about the matter at Ford's press conference, Mr Mulally said: "We don't comment on the speculation."
Mr Mulally said the company's plan to keep him as chief executive until the end of 2014 was unchanged.
He has been running the auto maker since 2006 and is the third-longest serving chief executive in Ford's history, after Henry Ford I and Henry Ford II.
He has received praise for helping Ford to avoid the government bailouts needed by its competitors General Motors and Chrysler in 2009.