Dr Martens owner is bought by Permira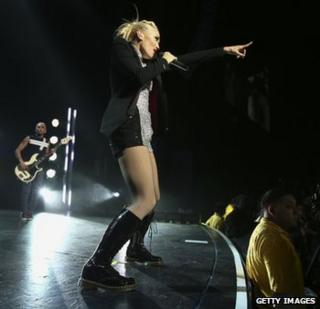 The owner of shoe brand Dr Martens has been bought by investment firm Permira Funds for £300m.
R Griggs Group, based in Wollaston, near Northampton, has been making boots since 1901, but became famous with its Dr Martens boot in the 1960s.
The deal adds to Permira's portfolio of fashion businesses, which includes Hugo Boss, New Look and Spain's Cortefiel.
Griggs was the first firm to use an air-cushioned sole, developed by Munich-based Dr Maertens and Dr Funck.
The boot that emerged from their collaboration was initially sold as a work boot, but was taken up by the early skinhead youth movement of the 1960s.
The firm also credits Peter Townshend, guitarist and songwriter for the Who, as another early adopter.
According to the company, Mr Townshend says that, while on tour, he would go to bed with two things: a cognac bottle and a Dr Martens boot.
Rock connections
The boots also become popular with punks in the 1970s and had a resurgence when Britpop emerged in the 1990s.
More recently, singers Miley Cyrus and Gwen Stefani have performed in Dr Martens, introducing a new generation to the boots.
Dr Martens now sells about five million pairs of shoes a year. Most are made overseas, but 70,000 a year are still produced at its factory in Northampton.
Under the leadership of chief executive David Suddens, Dr Martens has doubled the size of the business over the last four years.
Since 2010, it has opened 30 Dr Martens stores and intends to open another 40 over the next four years, with a particular focus on China
Mr Suddens told the BBC that Permira had "bought into" the current management's growth plan and was "excited" about the growth prospects.
"The Permira Funds respect that heritage and wants to support the management team in nurturing it," he said.
He also said the company was working on new products for the US, which accounts for more than 40% of its sales.
Dr Martens expects to make a profit of more than £30m this year.