Debenhams reports dip in profits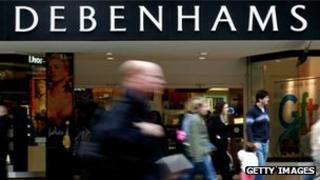 Department store group Debenhams has reported a small drop in full-year profits, and says shoppers' incomes are expected to remain under pressure.
The retailer said profits fell 2.7% to £154m for the year to 31 August, with sales up 2.5% to £2.78bn.
It said online sales, up by 46.2%, were "well ahead of the market". Online accounted for 13.2% of its total sales.
Chief executive Michael Sharp said he was pleased with the results given the "very difficult conditions".
He said he expected shoppers' incomes to stay under pressure, giving that price inflation growing ahead of wages.
Mr Sharp added: "With this in mind, we remain cautious about the strength and pace of any consumer recovery in 2014 and expect the marketplace to remain highly competitive."
Debenhams said it would open four more stores in the UK in 2014.