Social scrapbooking site Pinterest valued at $3.8bn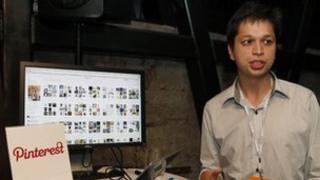 Social networking site Pinterest has seen its value jump by more than 50% to $3.8bn (£2.3bn) following its latest round of fundraising.
The three-year old company, which has yet to generate revenue, said it had raised $225m from a group of investors led by Fidelity Investments.
Earlier this year it had raised $200m, valuing the firm at $2.5bn.
Pinterest said it plans to use the new funds to further expand internationally and develop its mobile services.
"We hope to be a service that everyone uses to inspire their future, whether that's dinner tomorrow night, a vacation next summer, or a dream house someday," Pinterest co-founder and chief executive Ben Silbermann said in a statement.
"This new investment enables us to pursue that goal even more aggressively."
The San Francisco-based company is also looking at ways of monetising its service. Earlier this month the firm started testing the use of 'promoted pins' as a possible form of advertising.
Tech start-ups
Pinterest has secured its latest round of financing amid renewed demand for fast-growing interest companies.
Micro-blogging site Twitter, for example, is looking to raise about $1bn through a share offering later this year.
There is strong interest in Twitter, which has seen its value skyrocket in recent years.
In the prospectus for its initial public offering, Twitter valued itself at nearly $13bn as of August. In July 2007, the firm was worth about $200,000.
Social networking giant Facebook listed in New York last year after raising a record $16bn.
The new valuation for Pinterest, which has 46m users, now makes it worth more than some publicly traded tech companies, such as mobile game developer Zynga.
But for many analysts, the big question is how the free service can make money based on a business that lets people share images of objects or projects by "pinning" pictures online.