Boeing to speed up Dreamliner output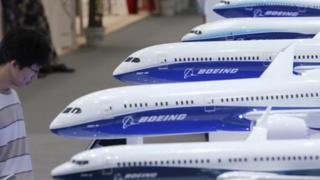 Boeing has announced plans to raise production of its 787 Dreamliner to 12 per month by 2016.
That would be an increase from its target for the end of this year of 10 planes a month.
The Dreamliner has experienced major problems since its introduction two years ago.
It was grounded in January of this year for more than three months while investigators examined why batteries were catching fire.
Boeing also reported an 11% rise in net earnings to $1.16 billion dollars for the three months to the end of September.
That was better than analysts were expecting and Boeing shares rose more than 4%.
The strong performance was partly due to its commercial aircraft division where sales rose 15%.
Sales at its defence, space and security business rose just 3% and sales of military aircraft fell during the quarter.
"Despite the uncertainty of the US defence market, overall our customer focused business strategies and disciplined execution on our programmes are producing the results we expect," said Boeing's chief executive, Jim McNerney.