Bank shares fall after ECB outlines healthchecks for lenders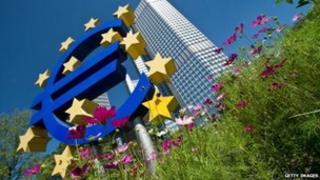 Bank shares across Europe have fallen after details of planned healthchecks on the top lenders were unveiled.
The European Central Bank, which takes over supervision of leading eurozone banks next year, said the stress tests would unearth potential risks.
Banks with capital shortfalls may be required to bolster their balance sheets, the ECB said.
The Euro Stoxx index of big eurozone banks was down more than 2.5% in late morning trading.
ECB president Mario Draghi said: "A single comprehensive assessment, uniformly applied to all significant banks, accounting for about 85% of the euro area banking system, is an important step forward for Europe and for the future of the euro area economy.
"We expect that this assessment will strengthen private sector confidence in the soundness of euro area banks and in the quality of their balance sheets," he said.
The exercise will start next month, and will take about 12 months. The ECB said the aim was to "foster transparency, to repair and to build confidence".
Berenberg Bank senior economist Christian Schulz said: "The exercise will increase transparency, trigger further balance sheet repair and restore confidence in the eurozone banking sector.
"A successful exercise could complete the process of healing after the Lehman and eurozone crises."
A provisional list of banks to be reviewed includes 24 German banks, 16 in Spain, 15 in Italy, 13 in France, seven in the Netherlands, five in Ireland and four each in Greece, Cyprus and Portugal.
About 128 banks will eventually be scrutinised to ensure their stability and highlight potential risks to the financial system.
Sudden shocks
An asset quality review will look at "sovereign and institutional holdings and corporate and retail exposures, and both the banking and trading books will be reviewed", the ECB said.
Another part of the review will look at liquidity, leverage and funding.
Thirdly, the banks will be stress-tested against various scenarios to ensure their resilience to sudden shocks in the banking system.
Banks will be required to hold a capital buffer of 8%.
When assessing banks' capital, the ECB said it would use the European Banking Authority's definition, which classifies bank loans that are more than 90 days overdue as non-performing.
Italian bank shares were hit, and Spain's Bankia fell more than 5%. Germany's Commerzbank was down 3%.
The ECB's Single Supervisory Mechanism (SSM) will cover 24 banks that make up about 65% of the German banking sector.
Bundesbank deputy president Sabine Lautenschlaeger said the process "will be a tour de force for German banks and their supervisors", but added that "the effort will be worthwhile, as the SSM will give us the opportunity of getting the best out of all supervisory cultures in the euro area".