Mortgage and credit card borrowing increasing, BBA says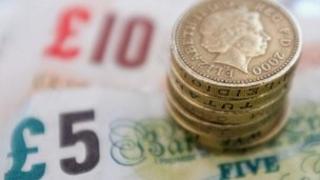 Growing consumer confidence is creating more demand for mortgages and higher spending on credit cards, a banking body has said.
The British Bankers' Association (BBA), which represents the major High Street banks, said that the number of mortgage approvals rose in September.
In addition, borrowing on credit cards outstripped repayments.
However, the figures do not signal a return to the kind of credit boom seen before the financial crisis.
Low interest rates in the UK have led to competitive deals for borrowers, but have been frustrating for many savers looking to find a good return for their funds.
Mortgage rates have been particularly low for those able to raise a deposit and wishing to secure a deal.
The latest BBA figures show that the number of mortgages approved for house purchases in September stood at 42,990. This was up from 38,834 the previous month and nearly 7,000 higher than the average of the last six months.
"September's figures build on the growing picture of improved consumer confidence, with stronger gross mortgage lending, rising house purchase approvals and increased consumer credit," said David Dooks, statistics director at the BBA.
However, one mortgage broker said that some people were still keen to play safe with credit.
"There remains a strong trend for borrowers to overpay on their mortgages, taking advantage of low interest rates and paying down debt where they can," said Mark Harris, chief executive of SPF Private Clients.
"Confidence may be growing in the housing market but homeowners are reluctant to take on more borrowing while there is still uncertainty with regard to the economic and jobs' climate."