Heineken issues profit warning after weak sales overseas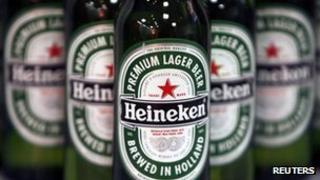 Dutch brewer Heineken has scaled back its profit forecast after a drop in sales in Europe, Brazil and parts of Africa.
It said profits would decrease in the "low single-digits", rather than stay "broadly in line" with last year's figure.
The company said the weak market for beer in parts of Europe was partly behind the revision.
Heineken said it would be restructuring the business and cutting costs.
It also said the strength of the euro against emerging markets would affect profits this year by about 40m euros.
The group, which is the largest seller of beer in Europe, saw an 8% drop in beer sales across central and eastern Europe, with weak spending in Russia, Romania and Greece.
Difficulties in Nigeria, Egypt and the Democratic Republic of Congo also hit sales, Heineken said.
Chief executive at Heineken, Jean-François van Boxmeer, said underlying trading conditions across Europe were still "challenging", despite growth in western Europe.
He said: "Looking forward, we remain confident that our broad geographic spread and strong brand portfolio will continue to support long-term growth for Heineken."