Spain out of recession, central bank says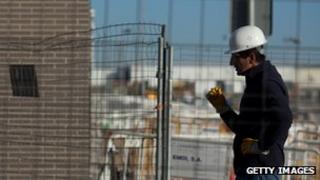 Spain's economy has emerged from recession after growing for the first time in more than two years, according to estimates from the Bank of Spain.
Spain's gross domestic product (GDP) grew by 0.1% between July and September, the bank said.
However, GDP was still 1.2% lower in the quarter compared with the same period last year.
Spain's economy has been struggling ever since the credit crisis struck in 2008.
The bank's figures are an estimate, and the country's National Statistics agency INE is due to release preliminary third quarter GDP data on 30 October.
Export growth
The Bank of Spain said the country's economy had been helped by stronger exports in the past quarter.
"The slight recovery in activity in the third quarter after the fall a quarter earlier is due to... a more favourable contribution from the external sector," it said in its monthly bulletin.
Spain has been one of the countries worst hit by the fallout from the credit crisis.
The crisis burst the country's housing bubble, and its banks needed government bailouts to survive after being left holding hundreds of billions of euros in bad debts.
Its unemployment rate of more than 26% is one of the highest in Europe.
Government austerity measures aimed at cutting Spain's large deficit prompted huge protests across the country last year.
However, the government recently claimed that the end of the recession was near, saying reforms and austerity measures were paying off.
Ignacio del Torre, economist at financial advisory firm Arcano, said: "After recently implemented reforms, Spain has become an export powerhouse.
"It will fully leave the recession behind in 2014 with private investment and consumption growth turning positive after three years of decline and credit levels stabilising," he added.