Energy bosses called before MPs amid price rises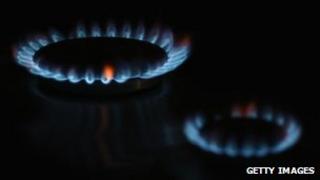 Bosses from the UK's six biggest energy firms have been called to give evidence to MPs about recent price rises.
The Energy and Climate Change Committee will quiz the bosses on 29 October.
In the past two weeks, three of the "big six" energy firms have announced gas and electricity price rises.
Npower's dual-fuel bills will go up by 10.4% on 1 December, SSE will increase prices by 8.2% from 15 November and British Gas's prices are due to rise by 9.2% on 23 November.
Analysts expect the others - Scottish Power, E.On and EDF - to follow suit by increasing prices.
Scottish Power, which has just been hit with a penalty by regulator Ofgem after sales staff misled customers, said it faced the same cost pressures as competitors and was likely to "move on prices" before the end of the year.
'Justification'
The chairman of the committee of MPs, Sir Robert Smith, said: "The committee has today decided to call in the energy bosses in the context of the latest wave of price increases."
The committee said the session would examine the "reasons and justification" behind recent price rises, the difference of pricing policies between the firms, and how "the transparency of energy company profits can be improved".
The energy companies have argued that the price rises were the result of higher wholesale costs, increased costs in delivering energy to customers' homes, and the effect of the levy charged to companies to fund environmental measures.
The recent energy price increases have coincided with considerable political debate about the cost of gas and electricity to households.
Labour leader Ed Miliband has pledged a price freeze for 20 months if his party wins the next election. But Prime Minister David Cameron has branded Mr Miliband's price freeze plan a "con", saying that he does not have control over the worldwide price of gas.
Meanwhile, former prime minister Sir John Major has called for a windfall tax on the profits of the UK's top energy firms.