Contested PPI woes top one million, says ombudsman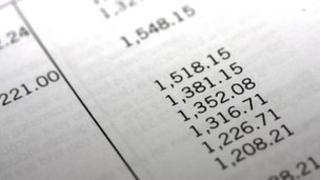 More than a million complaints about payment protection insurance (PPI) have been made to the financial ombudsman, latest figures show.
Cases end up with the ombudsman if there is no agreement between a bank and its customer.
In the third quarter of the year, 81% of all complaints made to the ombudsman were about PPI.
Banks said that complaint numbers were starting to fall and institutions were improving how these were handled.
Huge scandal
PPI policies are supposed to repay people's loans if their income drops because they fall ill or lose their jobs.
Some people have benefited from the policies, but many were unaware they were even paying for it. Others did not need it or would have been unable to make a claim.
Thousands of people have already been compensated after being mis-sold the policies, and now a huge industry has built up around sorting all the claims that can be made.
Consumer groups regard PPI as the UK's biggest financial mis-selling scandal.
The ombudsman has said that some customers were facing "unnecessary delays" in receiving compensation payouts.
Since April, 247,399 complaints have been made to the ombudsman about PPI. Some 70% of PPI disputes dealt with by the ombudsman in the same time period have been resolved in favour of consumers.
The latest figures show that more than a million complaints have now been made to the ombudsman. About two-thirds of these have come in the last 18 months.
However, a spokesman for the British Bankers' Association (BBA), which represents the High Street banks, said: "Figures published by the Financial Conduct Authority last week showed that customer complaints have fallen by 17% this year.
"Banks are determined that there will be no repeat of any of the bad practices which caused mis-selling in the past and have overhauled incentive structures. Staff are now rewarded for high levels of customer service and not sales volumes. The industry continues to work with the FCA and the ombudsman to improve complaint handling for customers."