Netflix profits jump as subscribers pass 40 million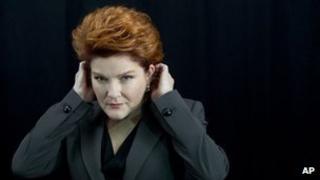 TV and film streaming service Netflix has seen global subscriber numbers surge past 40 million and profits jump, thanks in part to its popular original programmes.
The firm behind prison drama Orange is the New Black said its net profit rose to $32m (£19.8m) in the three months to the end of September.
In the same period a year earlier, it made a profit of £7m.
Shares in the firm rose 10% in after-hours trading on Monday.
'Compelling content'
Netflix executives said its investment in original programmes had helped to drive profit. Its other self-produced shows included political drama House Of Cards.
It now plans to double its investment in original content, but said it would still account for less than 10% of the overall output it offers.
"Over the next few years we aspire to support creation of some of the most compelling and remarkable content ever produced," Netflix chief executive Reed Hastings and chief financial officer David Wells said in a letter to investors.
The California-based company is considering further television shows, as well as starting to make its own movies.
"We are actively looking right now at a few documentary projects. We'd like to do more of that in the movie space," said chief content officer Ted Sarandos.
Netflix subscribers watched a total of about five billion hours of films and television shows in the last quarter, according to Mr Hastings.
Netflix's shares rose to $388.50 in after-hours trading on Monday, compared with their close of $354.99 on the Nasdaq index.
Standard & Poor's equity analyst Tuna Amobi said Netflix had "turned an important corner for potentially sustained subscriber growth".
He added: "There is not a whole lot not to like. There is a whole lot of momentum behind the story."