GDF Suez buys £24m stake in UK shale gas projects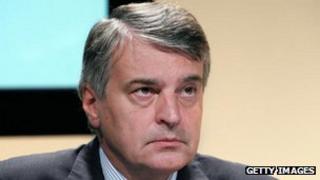 French utility firm GDF Suez has signed a deal with UK-based Dart Energy to explore Cheshire and the East Midlands for shale gas.
GDF Suez will buy a 25% share in Dart's 13 onshore licences for £7.4m ($12m), followed by £16.7m for ongoing costs.
The licences overlay the Bowland Shale area, estimated to contain 1,300 trillion cubic feet of shale gas.
The company said several wells will be drilled in the 1,378 sq km (532 sq miles) area, if the government allows.
'Very confident'
The French group said that, alongside Dart Energy, it planned to drill "a number of exploration wells" initially.
Jean-Marie Dauger, chief executive of GDF Suez, said: "We are very confident about the potential of shale gas in the UK, and its anticipated contributions to UK energy security."
He said the deal marked the company's first investment in UK shale gas.
Mr Dauger added: "We look forward to working with our partner, Dart Energy, to unlock the potential of these licences."
The deal is expected to be completed by the end of 2013.