Pension liberation schemes face HMRC scrutiny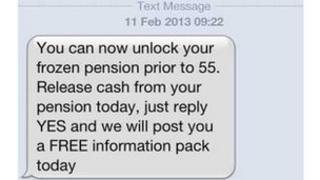 The UK's tax authority is stepping up its scrutiny of pension funds amid concerns over people being enticed into cashing in their pension early.
Pension liberation schemes encourage people to access their pension savings before the age of 55.
These schemes will no longer be automatically registered to receive funds when an online form is received by HM Revenue and Customs (HMRC).
Now the details will be scrutinised before they can operate.
"The changes to our process are part of a government-wide initiative involving HMRC and other agencies aiming to detect, disrupt and deter promoters of pension liberation schemes and to ensure that individuals are aware of the true tax position," a spokesman for the tax authority said.
"The vast majority of pension funds abide by their legal obligations but we won't hesitate to de-register a pension scheme where rules are not adhered to."
Fees and taxes
Up to 70% of any funds released from a pension early can go to the tax authority.
This is because pension saving is tax privileged, under the proviso that the funds are not touched until the saver reaches the age of 55 at least.
These liberation scheme operators can also charge high fees, often between 10% and 20% of the amount "released".
The operators of pension liberation schemes tend to work in the grey areas of the law, according to the regulator.
Introducers to the schemes, or advisers, use text messages, cold calls, or website promotions to encourage people to access their "frozen" pension.
They might suggest that people take a loan from the scheme provider, secured on their pension funds. Alternatively, the money might be transferred from the pension scheme into risky, unregulated investments often based overseas, the Pensions Regulator said.