Co-op Group to lose overall control of Co-op Bank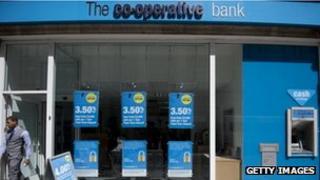 The head of the Co-op Group has confirmed that the mutual organisation will lose overall control of the Co-op Bank as a result of a rescue deal.
The Co-op has been in talks with key investors, led by US hedge funds, to provide extra capital for its bank.
Co-op Group chief Euan Sutherland says it will hold a 30% stake in the bank and will retain "effective" control as it would hold the single largest stake.
However, under its original plan it would have held 70% of the bank.
Principles 'embedded'
In June, the Co-op Group announced a plan to tackle a £1.5bn hole in the bank's balance sheet.
This would have seen Co-op Group put in £1bn of capital itself, with £500m coming from bondholders and owners of preference shares.
The bank would then have been floated, with Co-op Group holding a 70% share.
However, the bank's creditors, led by US hedge funds, rejected the plan.
On Monday, the Co-op Group issued a statement which said: "We currently expect that many elements of any recapitalisation plan will be materially different to the outline provided on 17 June 2013."
Later, Mr Sutherland said in a video statement that a deal had been struck in principle, leaving the group with 30% of Co-op Bank.
"This bank will remain the Co-operative Bank," he said. "We are embedding the co-operative principles in the constitution of the bank to guarantee this."
The Co-op Bank's financial problems came to light during its attempt to buy more than 600 bank branches from Lloyds Banking Group. A deal was initially agreed in 2012, but fell through earlier this year.
In August, the Co-operative Bank reported a loss of £709m, with nearly £500m in write-downs stemming from bad loans that it inherited when it bought with the Britannia Building Society in 2009.