AT&T in $4.85bn tower deal with Crown Castle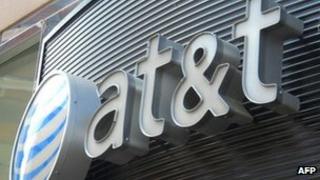 US telecom giant AT&T has agreed to lease nearly 9,100 of its towers and sell another 600 to tower operator Crown Castle International.
AT&T will receive nearly $4.85bn (£3bn) in cash upfront as part of the deal.
The deal gives AT&T cash to fund a new share buyback announced earlier this year, as well as a multi-billion dollar plan to upgrade its wireless and high-speed internet networks.
It has also hinted that it is looking at making acquisitions in Europe.
"This deal will let us monetise our towers while giving us the ability to add capacity as we need it," Bill Hogg, a senior vice-president with AT&T said in a statement.
"And we'll get additional financial flexibility to continue to invest in our business, maintain a strong balance sheet and return value to our shareholders."
Maximising profits
The deal is the latest such move by a US telecom operator.
Last year, T-Mobile USA agreed to sell the rights to operate 7,200 cellular towers to Crown Castle for $2.4bn.
Mobile operators can free up cash and focus on more profitable areas of their business by leasing or selling their towers.
Meanwhile, specialist operators tend to lease the capacity on the towers to multiple operators in an attempt to maximise their profits.
According to the latest deal, AT&T will sublease capacity on the towers from Crown Castle for a minimum of 10 years for $1,900 per month per site, with annual rent increases of 2%.
Crown Castle said in a statement that it "will have the right to sublease other available capacity on the towers to additional tenants and believes the AT&T towers have sufficient capacity to accommodate at least one additional tenant per tower".
It added that nearly half of the towers were "located in the top 50 markets, where we expect the majority of network densification and upgrade activity to occur".
Under the terms of the deal, Crown Castle will have exclusive rights to lease and operate approximately 9,100 AT&T towers.
The average term of the lease rights is about 28 years and Crown Castle will have the option to purchase the leased towers for about $4.2bn as the leases expire.