Japan posts trade deficit for 15th consecutive month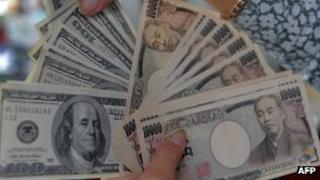 Japan has posted a trade deficit for the 15th month in a row in September as a weak yen pushed up import costs.
The deficit for the month rose to 932bn yen ($9.5bn; £5.8bn), up 64% from a year ago, as imports rose 16.5%.
A series of aggressive measures aimed at reviving Japan's economy has resulted in the yen falling nearly 25% against the US dollar since November.
While that has helped Japan's exports by making them cheaper, it has also made imports more expensive.
However, the growth in exports has not been sufficient enough to offset the higher import bill.
Data released by the Ministry of Finance showed that exports rose 11.5% in September, from a year earlier.
Japan's imports have grown at a faster rate than its exports in all but one of the past 11 months.
Analysts said that imports have been rising over these months partly due to higher demand for fuel, which has been triggered by the shutdown of all of Japan's nuclear reactors.
At the same time, a recovery in Japan's economy is also helping spur domestic demand.
Last month, revised data showed that Japan's economy expanded 0.9% in the April-to-June period, from the previous three months. That translates into an annualised growth of 3.8%.
Martin Schulz, of Fujitsu Research Institute, said that given these factors "Japan was likely to see a trade deficit for some time to come".
"And as long as it is being driven by a recovery in domestic demand, this is not necessarily a negative sign for the overall economy," he added.