RBS chief urges staff to focus on recovery as break-up talk grows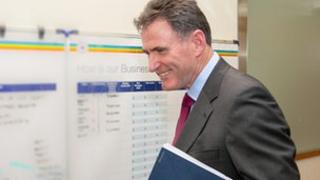 Royal Bank of Scotland's new chief executive has told staff not to be distracted by speculation that the company may be broken up.
In a memo Ross McEwan urged staff to focus on rebuilding the bank and doing the best possible job for customers.
The government, which owns 81% of RBS, is reviewing whether the bank should be split into "good" and "bad" arms.
In his memo, Mr McEwan said that "at some point soon we'll reach the end of the review".
Investment bank Rothschild is advising the government on whether RBS's bad loans should be hived off into a separate entity. Speculation has grown that the review is coming to an end.
But Mr McEwan said a bad bank would only affect a small proportion of RBS's overall business. Analysts have said that the vast bulk of RBS's assets are likely to be unaffected by the review.
Mr McEwan said: "The truth is, the review and its outcomes are important, but not in the way many people think.
"The future of this company will not be about whether we operate in particular areas or where our problem assets sit. The future of this company is about how good a job we do for our customers, including those who are having difficulty repaying their loans.
"But the debate you read about in the papers - and that has taken up too much time of the management team - has been about what is now a small proportion of our activity.
"We are taking responsibility for resolving these debates. Let's address the legitimate concerns shareholders and other stakeholders have. And then let's get on with building a great bank for customers," he said.
Mr McEwan became chief executive at the start of October, replacing Stephen Hester, who spent four years trying to repair the bank's balance sheet.
Supporters of a break-up of RBS include former Bank of England governor Sir Mervyn King and ex-UK Chancellor Nigel Lawson.
RBS was bailed out for £45bn in 2008 at the height of the financial crisis.