Credit union offers cheap online payday-style loans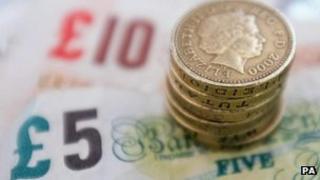 A credit union says that more than 6,000 customers have now successfully applied online for its payday-style loans.
London Mutual offers people the chance to borrow between £100 and £1,000 at an interest rate of 2% per month.
Borrowers do not have to save with the credit union to apply but they must live or work within one of four inner-London boroughs.
Other UK credit unions are expected to adopt a similar model next year.
Cheaper loans
The loans are available on the London Mutual Credit Union's CUOK website.
Credit unions are currently limited to charging no more than 2% interest per month, so to borrow £400 over a month would cost just £8 in interest.
Customers who want the payment on the same day as they apply have to pay an £11 fee.
Borrowers must live or work within four London boroughs - Westminster, Camden, Southwark or Lambeth. They also have to undertake a short psychometric test as part of the application process. The five questions ask borrowers if they tend to obey rules and worry about what other people think of them.
Lakshman Chandrasekera, London Mutual Credit Union's chief executive, said the test helped them make lending decisions: "We are trying to find out if you are the type of person who will borrow and not care about not paying. It is useful. There's a correlation between what they say and what their payment patterns are."
The whole application process can be finished in under 10 minutes. Mr Chandrasekera said that applicants were given a fast service: "Our online payday loan facility is exactly the same as any other payday loan service. People can apply for the loan, get the decision there and then, and then get the money within a couple of hours."
However, the cost of borrowing is significantly lower than commercial payday lenders. Many would charge more than £100 to borrow £400 for a month. Mr Chandrasekera said his credit union also makes careful checks to ensure customers will not struggle to repay the loan: "We are doing thorough checks on affordability, so we will make sure this person can afford to pay the loan."
Approval processes
Emma took out a loan for £100 with CUOK last month in order to buy her children school uniforms which she has agreed to pay back over a three month period, costing her just £4.04 in interest: "I'd overspent on holiday with the children. We went through what I had coming in and they worked out what I could afford to pay back. I think within 24 hours I had the money. It was very easy, very straightforward."
London Mutual admitted that only one in five applicants like Emma can be approved solely on the basis of the online application process.
The other four out of five applicants normally then have to speak to someone over the phone to give additional information.
But they would still hope to process the application within 24 hours.
Michael regularly used payday loan firms until he discovered he could borrow £400 from CUOK: "Payday loan companies are so aggressive. They also charge about 10 times as much as a credit union. I didn't have to stress."
Faster loans
Mark Lyonette, chief executive of the Association of British Credit Unions, says it is important his members speed up their processing of loans but they should still not be too short term: "The sector has just introduced an automated scoring system built on a score card working with the credit reference agencies. We might not be keen on making loans for a 10-day period but we absolutely need to not take 10 days to make a loan."
Some industry commentators believe there are strict limits to the extent that credit unions could ever compete with payday lenders.
Julian Knight, money editor of the Independent newspaper, says payday lending has grown too big: "They just don't have the scale. The payday lending industry is worth £3bn to £4bn. It would just be a scratch on the surface."
Money Box is broadcast on Saturdays at 12:00 BST on BBC Radio 4 and repeated on Sundays at 21:00 BST. You can listen again via the BBC iPlayer or by downloading Money Box podcast.