Co-operative Energy prices to rise by 4.5%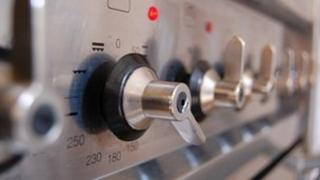 One of the UK's smallest energy suppliers - Co-operative Energy - has joined two of the big firms in announcing price rises.
The firm, which started in 2011 and has 150,000 customers, will increase gas and electricity prices by 4.5%.
Existing customers will see their bills go up from 8 January, but the price rise will take effect for new customers from Monday.
SSE and British Gas have outlined price rises in recent days.
SSE announced an 8.2% increase in domestic bills from 15 November and British Gas said prices for its customers would go up by 9.2% on 23 November.
These two are part of the group of major UK domestic energy suppliers, known as the "big six".
Ministers have said it has been difficult for smaller firms to compete with these major firms.
Co-operative Energy, which operates in England, Scotland and Wales and is part of The Midcounties Co-operative, said it had absorbed half of the increased costs it was facing.
"Due to increasing energy market costs beyond our control, namely the costs associated with buying energy and getting it into customers' homes, we find ourselves in the position of having to now pass these costs on to our customers," said Ramsay Dunning, general manager of Co-operative Energy.