Bonmarche fashion chain to float shares on AIM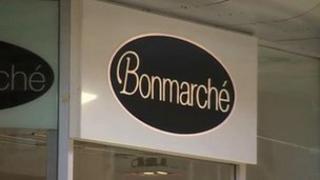 Women's fashion chain Bonmarche, which sells to the over-50s age group, is planning to list its shares on the stock market.
It has 264 stores but also sells online and through mail-order systems, including a TV channel.
Bonmarche was owned by fashion chain Peacocks, but was bought in 2012 by investors Sun European Partners when Peacocks went into administration.
Bonmarche says it has 1.8 million customers in its loyalty club.
The chain has the licence to use the David Emmanuel name, one half of the team that designed Princess Diana's wedding dress in the early 1980s.
'Opportune time'
Announcing its intention to float, the company cited figures from the Office for National Statistics and retail specialists Verdict predicting that the number of women over the age of 55 - its target market - would be 16% higher in 2018 than in 2008.
Bonmarche says there are a limited number of rivals serving this market.
The firm's chief executive, Beth Butterwick, said: "The success and strong performance enjoyed by the business over the last 18 months... makes this an opportune time to bring the company to AIM [London's junior share market]."
Sun European Partners, whose main assets and base are in the US, also owns the Jacques Vert chain in the UK.
Bonmarche has its head office in Wakefield in West Yorkshire. It was founded in 1982 and bought by Peacocks in 2002.