Toyota to recall 885,000 vehicles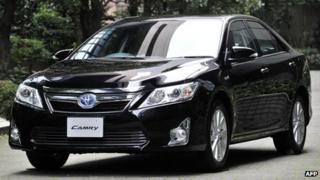 Toyota is recalling 885,000 vehicles to fix a problem that could cause a water leak from the air conditioning unit.
It said water could leak into the airbag control module, causing a short circuit and triggering a warning light.
In some cases airbags "could become disabled or could inadvertently deploy" and in limited cases the power steering function could be disabled, it added.
The models affected by the recall are the Camry, Camry Hybrid, Avalon, Avalon Hybrid, and Venza made in 2012-13.
Some 847,000 cars will be recalled in North America, while the rest will be in Europe, Asia and the Middle East.
A spokeswoman for Toyota told the BBC that it had received reports of two minor injuries due to the issue, but there had been no reports of any vehicles crashing.
Reputational damage?
This is the third major recall that Toyota has issued in recent weeks.
Last month, the company called back more than 780,000 vehicles in the US to address a suspension defect in its RAV4 and Lexus HS 250h models, after fears that an initial recall last year did not fix the problem.
In September, it recalled 615,000 Sienna minivans in the US to fix a lever problem that could cause vehicles to shift out of park mode "without the driver depressing the brake pedal".
Toyota said at the time that it was aware of 24 "minor accidents" due to the issue.
In recent weeks more than 2.2 million vehicles have been recalled.
Analysts said the recalls could have an impact on its reputation with the customers.
"Repeated recalls definitely dent the image of any carmaker," Vivek Vaidya, an auto analyst with consulting firm Frost & Sullivan told the BBC.
"If you have one big recall, it is still manageable. But if (a company) calls back different vehicle models at different times for unrelated issues, customers tend to have a re-think about your quality assurance.
"And if the problem involves airbag deployment - it becomes a serious issue," he added.
The latest move takes the total number of cars recalled by Toyota this year to six million vehicles.