Google shares touch record highs after latest results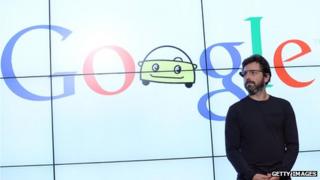 Google has reported a profit of $2.97bn (£1.84bn) during the July -September period, beating expectations.
The company missed forecasts during the last quarter.
However, a closely watched measure, cost per click - how much advertisers pay to place an advert - declined by 8% from the same period last year.
Shares in the company jumped to an all time high in after hours trading, rising 6% to $941.25.
Google boss Larry Page said in a statement that: "Google had another strong quarter with...great product progress".
Overall, paid clicks increased by 28% from the same time last year, and were up 8% from the previous quarter.
This is taken as a good sign by analysts, as advertising makes up the dominant share of Google's profits.
The company's troubled Motorola unit continued to be a drag on the figures, however. It lost Google $248m, despite the launch of the flagship Moto X phone in August.
Mobile battle
In a call to discuss earnings with investors, Mr Page highlighted just how dominant mobile has become among consumers.
He said that 40% of users reached YouTube through their mobile phones compared to just 6% two years earlier.
Analysts were closely watching how Google is faring in this mobile transition, particularly as it relates to advertising.
Google charges less for mobile than for its traditional web browser ads, which is why even though ad sales increased throughout the quarter, the cost per click figure declined.
Research firm eMarketer estimates that the mobile ad market worldwide will grow 89% to $16.65bn this year; up from $8.8bn in 2012.
Google's market share in the ad market is 6.9%. This has recently slipped slightly as rival Facebook has made inroads. Facebook now has 14.9% of the market, a jump from 9% last year.
In a personal move, Mr Page said that he would no longer be participating in every earnings call. While he said this move was intended to better prioritise his time, many observers noted that his voice remained strained after surgery to repair an injured vocal chord.