Financial Conduct Authority joins foreign exchange probe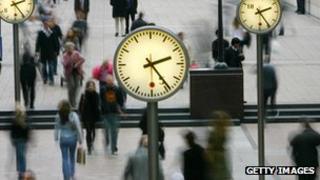 A UK banking regulator is joining a widening global investigation into possible manipulation of the foreign exchange markets.
The Financial Conduct Authority (FCA) has joined the Swiss regulator, FINMA, in investigating allegations of collusion between traders.
Recent media reports suggest they used instant messaging services to work together to fix exchange rates.
Hong Kong authorities are also looking into the matter.
"We can confirm that we are conducting investigations alongside a number of other agencies both in the UK and abroad into a number of firms relating to trading on the foreign exchange (forex) market," the FCA said in a statement.
"As part of this we are gathering information from a wide range of sources including market participants. Our investigations are at an early stage and it will be some time before we conclude whether there has been any misconduct which will lead to enforcement action."
Royal Bank of Scotland confirmed it was among those contacted by the FCA, and said it was co-operating fully.
Any indication of manipulation is significant because of the huge size of the foreign exchange market. Transactions generate more than $5tn (£3.1tn) a day.
The involvement of UK regulators had been widely expected, due to the central role that London plays in the market. More than 40% of foreign exchange trading takes place in the UK.