UK retail sales up 0.6% in September, says ONS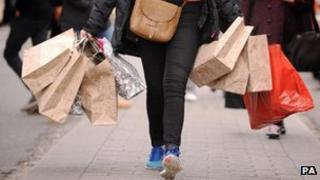 Retail sales grew by 0.6% in September compared with the previous month, following an unexpected fall in August.
The Office for National Statistics also said sales volumes had risen by 2.2% compared with September 2012, despite a fall of sales in supermarkets.
The retail sales figures are based on a monthly survey of 5,000 UK retailers.
The performance of the retail industry is seen as an indicator of the wider economy and the strength of consumer spending.
Furniture sales provided the biggest driver for the monthly rise in sales, owing to a pick-up in the housing market. Sales volumes in household goods stores grew by 3%.
Up and down
Retail sales have see-sawed in recent months. In July, the fine summer weather pushed sales up higher than expected, with barbecue food selling well.
Then, a month later, consumers reined in spending, particularly on food, leading to a drop in sales volumes.
In September, analysts had expected a rebound, but not to the degree seen in the latest official figures.
In addition to household goods, sales at clothing, footwear and textile retailers increased by 1.2% compared with August.
Ian Geddes, UK head of retail at Deloitte, said although confidence was rising, growth in wages remained "stubbornly low", so many consumers were "yet to benefit" from having more money.
He said pressure was on for retailers to get their product and brand "exactly right".
"Those who deliver highly desirable and creative products with distinctive and well-understood branding continue to reap the rewards," Mr Geddes added.
David Tinsley, UK economist at BNP Paribas, said he expected recovery in the housing market to "start to show up shortly".
But he said wages would have to rise before a more sustainable recovery could happen.
"We would not be surprised to see some softer patches in retail spending ahead," he added.