IBM reports a surprise fall in third quarter sales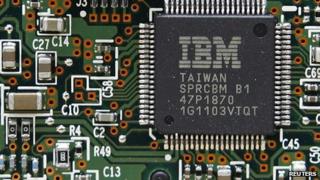 IBM has reported a 4% decline in sales in the three months to September, which was worse than analysts had been expecting.
The world's biggest technology services firm has not reported a rise in quarterly sales since the fourth quarter of 2011.
But the company still delivered a net income of $4bn (£2.5bn), a rise of 6%.
IBM's computer hardware division had a particularly weak quarter with a 17% fall in sales.
"I think that the hardware business is going to be something they need to work through and growth markets are down much more than expected," said Josh Olson analyst, Edward Jones .
Shares in IBM fell 6% in after hours trading.