Somali remittances granted reprieve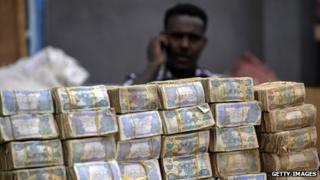 Somali money transfer service Dahabshiil has won an injunction preventing Barclays from cutting its banking services.
The injunction means customers will be able to transfer money through Dahabshiil for the foreseeable future.
Barclays had planned to cut off services to the company amid concerns over money laundering.
Dahabshiil is the largest provider of remittance services to the 100,000 Somalis living in the UK.
They are believed to send back millions of pounds every year to friends and relatives in Somalia - a vital source of income for the impoverished country.
"The Court handed down its judgment, granting an interim injunction which has the effect of preserving Dahabshiil's banking arrangements with Barclays until the conclusion of a full trial," a Dahabshiil statement read.
"This is not just a victory for Dahabshiil. It is a victory for the millions of Somalis and other Africans, many of whose livelihoods depend on our services."
Barclays asked to appeal against the injunction, but that request was rejected.
It must now maintain services to Dahabshiil until a new hearing - expected some time next year.
The charity Oxfam welcomed the injunction, but warned that it was only temporary.
'Long-term fix needed'
"The ruling provides a small window of opportunity for Somalis living in the UK to send money home to loved ones in one of the poorest countries in the world," it said.
"However, this does not solve the problem - a long-term fix is needed to safeguard hundreds of thousands of people relying on the money for food, medicines and education."
The charity's call for a permanent solution was echoed by Somalia's Prime Minister Abdi Farah Shirdon, who urged: "Governments, the money remittance sector and all key stakeholders must now work together to find a permanent legitimate and transparent solution that keeps open this vital lifeline."
Barclays had provided Dahabshiil with bank account services. But it expressed concern that money transfer services like Dahabshiil could be used for money laundering or even the funding of terrorism.
Barclays announced plans to close the accounts of several money transfer companies, including Dahabshiil, in May, but Dahabshiil sought an injunction preventing Barclays from closing its account, on the grounds that it was abusing its dominant position.
Barclays is the last major UK bank that still provides money transfer services to Somalia.
Barclays argued that some money service businesses "don't have the necessary checks in place to spot criminal activity with the degree of confidence required by the regulatory environment under which Barclays operates".
The withdrawal of Barclays services from Dahabshiil and similar money transfer services would have had a dramatic effect on the flow of remittances from the UK to Somalia.
Remittances from the UK to Somalia total more than £100m a year, according to Oxfam, and campaigners say they provide a lifeline to Somali families with no other source of income and no access to conventional banking services.
'Lifeline'
Leyla Jama, a 52-year-old Somali who came to the UK more than 20 years ago, works for the Somali Community and Cultural Association in Haringey.
Like many of her fellow Somalis, she sends back hundreds of pounds a year to her elderly parents in Somaliland - a semi-autonomous region of northern Somalia.
Between her and her brothers and sisters in the US and Canada, they send back more than $700 (£437) a month.
"[My parents] are old so they can't get jobs," she told the BBC. "There is no other source of income. The remittances are everything to Somalia - school, food, clothes, everything."
She said fears that Dahabshiil could be cut off had been a major worry among Haringey's Somali community in recent weeks.
"This is a lifeline for the Somali people. Everyone sends money back, so everyone here is really worried. It is the number one thing people are talking about at the moment."
International development experts say remittances are vital to countries such as Somalia, which has been ravaged by civil war and continuing political instability, where there are few conventional banking services.
A recent report by the UN suggests that more than 40% of Somalia's population receives remittances from overseas - more than four million people.
Money-laundering fines
Oxfam suggests remittances on average account for 60% of recipients' income, with about £1bn a year coming in from Somalis in countries around the world. Only Somalis in the US send back more each year than the UK's Somali community.
The importance of remittances to Somali has been underlined by the intervention of Somali President Hassan Sheikh Mohamud, who said last month that his government was watching events in London "with great concern".
Somalia-born Briton Mo Farah also joined the campaign to keep remittance services going.
But Barclays is facing its own pressures. Rival bank HSBC was hit with a huge $1.9bn fine for failing to prevent money laundering that had taken place through accounts it managed.
The UK Serious Organised Crime Agency has identified money service businesses generally as a potential money laundering risk, prompting banks such as Barclays to move out of this area of business.
Meanwhile, the presence in Somalia of militant groups such as al-Shabab, responsible for the attack on a Kenyan shopping centre last month, has raised concerns that money transfer services could also be used to fund terrorism. Somali pirates also remain a problem.
But experts warn that ending transfer services, including Dahabshiil, could force the money transfer business underground, helping supporters of terrorism while increasing the risk for Somalis who simply want to support their families.
"It will be the perfect opportunity for those who want to send money to Somalia to fund terrorism or enable money laundering," said Laura Hammond, a development expert at London's School of Oriental and African Studies. "It creates a black hole for accountability."