Jeff Immelt: The boss who is 'horribly self-critical'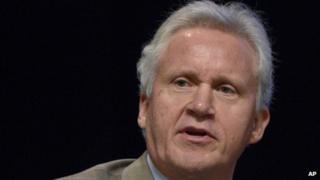 Jeff Immelt, the boss of US giant General Electric (GE), has a simple explanation for how he has lasted so long in the top job - he is very tough on himself.
"I think you can't do a job like this for a long time unless you're horribly self-critical," he says. "You have to be massively self-aware, because if you're not, it is so easy to be blind [to problems]."
Mr Immelt, 57, has been chief executive and chairman of GE for 12 years, and it is a big and historic ship to steer.
A huge, multi-national conglomerate, whose business interests include everything from manufacturing jet engines, to providing firms with finance, developing software, and making consumer goods such as dishwashers and coffee-makers, it has been in existence for 121 years.
An American institution if there ever was one, GE was formed in 1892.
Four years later it was one of the original 12 companies on the Dow Jones industrial average, the main US share index. Today GE is still on the Dow Jones.
With offices and other operations in more than 160 countries around the world, GE has more than 300,000 employees, and last year it made a net profit of $13.6bn (£8.5bn) from revenues of $147bn.
You might imagine that running such a successful and long-established business is a case of sticking to a safe, time-honoured course. But that couldn't be further from Mr Immelt's approach.
'Zero sum'
Instead, over the past decade and a bit, Mr Immelt has worked hard to make GE leaner and more quick-footed, something he says is essential as the company continues to increase its presence in developing economies.
"We were working on too many things that just weren't important, and so I launched an initiative inside the company called "simplification", which is really about lean structure, less bureaucracy, a complete passion for the market," he says.
However, one man's leaner company is another person's redundancy, and Mr Immelt has cut thousands of jobs in recent years, particularly in GE's home market.
This led to accusations of hypocrisy, because from February 2011 to January 2013, Mr Immelt was asked by President Barack Obama to look at how more jobs could be created in the US, in the role of chairman of the President's Council on Jobs and Competitiveness.
Yet Mr Immelt says GE needs to have "a lean, simple structure", especially in terms of removing excessive management in the US and other established markets, to better focus instead on emerging nations.
"The sad thing is we have great people everywhere, but it is a zero sum game," he says. "So when you have structure in the developed world that's trying to make decisions in the developing world, it just doesn't work."
Chinese efforts
Regarding the issue of securing more deals in the developing world, Mr Immelt says it is something that concerns him on a daily basis, because that is where the economic growth is.
"I sit in my office every day, and say, I've got to have higher market share in China than I have in the US," he says. "I've got to win Brazil, I've got to win Africa. They're not choices, I've got to, I've got to win those countries."
Mr Immelt adds that when he took over the top job at GE its operations were "70% inside the United States". He says they will never be that level again "unless we are failing horribly".
More than half of GE's revenues now come from overseas.
With specific regard to China, Mr Immelt says it has taken "years and decades" for GE to secure the trust of the Chinese, and that as chief executive he has led from the front.
"Let's say I have gone to China two or three times a year for 25 years, so I have 75 trips' worth of contacts, and I have been in hundreds of meetings," he says.
Mr Immelt adds that while some meetings may be frustrating and not seem to be worthwhile, "each one adds to the one before", and you slowly build up working relationships.
"We've earned the right, I think, to be a good Chinese company, only because we put in decades' worth of work."
'Simple life'
Looking ahead, Mr Immelt, who first joined GE back in 1982, and went on to head its healthcare division, says he has no plans to give up the top jobs.
"In many ways I'm the same as I was 12 years ago, but in many ways just my experience and my contacts, and my ability to look around corners, and things like that, is just so vast," he says.
"You can stay too long in a job, that's for sure. But by the same token, in the 12 years I have been CEO of GE there have been four CEOs of Toshiba. So there's too short a time to do it, and there's too long a time to do it."
To help keep his focus firmly on the job, Mr Immelt says he leads "a relatively simple life".
"I'm like one-wife, one-company," he says. "You know I don't drink much anymore. You've got to clean up a lot of elements of your life, I think, to be able to maintain the focus and the attention."
And that brings us back to the self-criticism.
"I worry about the 300,000 employees, and am I being a good leader? Am I being good enough?"
This feature is based on an original television interview by Steve Tappin for the BBC's CEO Guru series.