Bank of America earnings surge as legal woes ease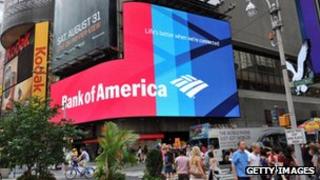 Bank of America has reported a profit of $2.5bn (£1.6bn) in the July-September period, compared to $340m a year earlier.
However, the earnings still missed analyst expectations, as US mortgage sales declined.
But the bank, once mired in legal woes relating to its behaviour during the financial crises, has seen its litigation costs fall.
It reported legal expenses of $1.1bn, down from $1.6bn last year.
Chief executive Brian Moynihan has worked hard to trim the bank's size and mitigate its litigation costs, most of which stem from Bank of America's 2008 acquisition of troubled lender Countrywide Financial Services. The acquisition has cost the bank nearly $50bn.
To get back to profitability, the bank has cut costs and jobs since a change in management in 2010.
While this has certainly helped to increase profit, the bank has still been hurt by a sluggish US economy, decreased trading profits, and a decline in the number of homes refinancing.
However, indications that the US Federal Reserve will continue its extraordinary efforts to prop up the US economy and keep interest rates low may help the bank in the coming quarters.
In a statement, Mr Moynihan said: "The economy and business climate will improve even more quickly as conditions normalise and we are well positioned to benefit from that."
Bank of America's shares rose on the news.