Union likely to announce strike at Royal Mail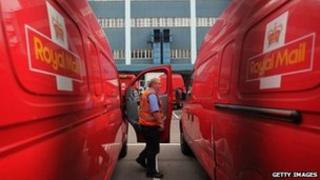 Plans for a national strike at Royal Mail are expected to be announced by the main postal union later today.
Polling by the Communication Workers Union suggests there will be both a large turnout in the ballot and an overwhelming vote for strikes.
The BBC has learnt that the ballot result is likely to be followed by confirmation of a 24-hour walkout.
It would be the first national strike at Royal Mail in almost four years and could hit the busy Christmas period.
The Communication Workers Union is pushing for an agreement that would protect workers' current terms and conditions at the privatised Royal Mail.
Royal Mail staff have been given free shares in the company, in an attempt to improve labour relations.
On Tuesday Royal Mail confirmed that full-time staff would receive 725 shares, worth £3,545 at Tuesday's close.
Tuesday was also the first day of full trading in Royal Mail shares.
Those who bought shares through the government's website had their first opportunity to cash in.
But the share price rose almost 3% to close at 489p.
The shares were originally priced at 330p, so have gained almost 50% in value.