Intel to delay Broadwell PC chip production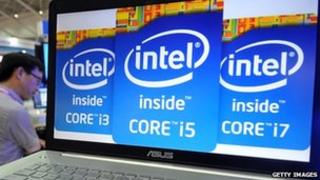 Intel, the world's biggest computer chip maker, has said the production of its next-generation PC chip, Broadwell, will be delayed by a quarter.
Chief executive Brian Krzanich said the delay was due to a technical glitch.
The Broadwell chips are expected to succeed the firm's Haswell line of processors, and are touted to be more power-efficient and faster.
Intel is the leading PC chip-maker and its updated products typically spur on new laptop and desktop sales.
"We and our (manufacturing) partners have a strong desire to get Broadwell to the market," Mr Krzanich said. "This is a small blip in the schedule."
'Tough environment'
The delay comes as Intel reported a slight fall in third quarter profits, hurt by slowing demand for personal computers (PCs).
It reported a net income of $2.95bn (£1.86bn) for the three months to the end September, compared to $2.97bn in the same period last year.
The division which makes chips for desktop computers saw sales fall 3.5%.
PC sales have now fallen for six quarters in a row and hit a five-year low in the July-to-September period.
Sales have been hurt by the growing popularity and falling prices of tablets and smartphones, hurting computer chip makers.
"The third quarter came in as expected, with modest growth in a tough environment," said Mr Krzanich said in a statement.
However, Intel's data centre business reported record sales of $2.9bn, up 12%.