Eurostar sees 10% summer revenue boost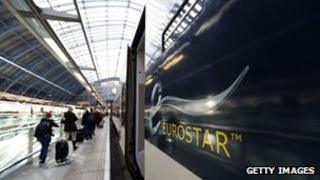 Eurostar has reported an increase in sales revenues and number of passengers during the summer as the UK economy recovers.
The high-speed rail operator said its sales revenues increased to £207m for the three months from July to September in 2013, a 10% increase on last year.
Passenger numbers also increased, by 5%, to 2.7 million.
A popular new link to Provence in southern France was partly behind the results, it said.
Eurostar chief executive Nicolas Petrovic said the quarterly results were the latest in an "encouraging trend" for business traveller volumes growing steadily.
Mr Petrovic said: "As a bellwether for the health of the wider UK economy, the growing strength of the corporate travel market gives us confidence in the business outlook to the year-end."
He said the company had entered an "exciting new chapter" in its expansion plans, characterised by new routes and services.
"The addition of Amsterdam to our list of European capital cities will be transformational for our business and the development of international high-speed rail travel across Europe," he added.
Eurostar is set to offer a service to Amsterdam in 2016, with a journey time of about four hours.