Osborne China visit: Business deal cuts both ways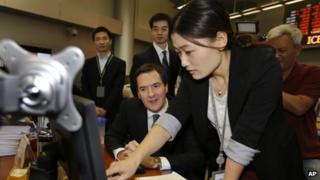 The news that investors in London are the first, outside greater China, to be allowed to apply for licences to make Chinese currency investments in that country has given the UK Chancellor, George Osborne, bragging rights.
It is a technical but significant change, which the chancellor says will make London a major global centre for trading China's currency, known as the yuan or renminbi (RMB).
So is it a reward for good behaviour?
Chinese Deputy Finance Minister Zhu Guangyao certainly seemed to suggest as much.
"Frankly speaking, Prime Minister [David] Cameron's meeting with [the] Dalai Lama harmed the Chinese-British relations," he told reporters after the announcement of Tuesday's financial deal here in Beijing.
"After joint efforts, the China-UK relationship has improved recently," he added.
And he demonstrated that the Chinese side was listening carefully to the language used on this trip.
"We appreciate what Chancellor George Osborne said during his speech at Peking University yesterday. He said although his trip is full of economic co-operative deals and commercial deals, the most important thing for him is to strengthen understanding and friendship between the two sides," he said.
The chancellor's speech did acknowledge the "different political systems" and different values, but it was also peppered with words such as "respect", "co-operation", and "understanding".
The journalists who met him as he arrived at Beijing airport all had a go at the human rights question.
I tried twice.
Mr Osborne ducked the first attempt. To the second, he replied: "I'm here to promote the economic development of our two countries.
"Our position on other issues is well known, well known to the Chinese and well known to the people of Britain."
Human rights dilemma
David Cameron, of course, refused to offer an apology to China for that meeting with the Dalai Lama in May last year.
But the soft-shoe shuffle now being danced by his ministers in China might be as good as one in Chinese eyes.
It is a constant dilemma for any Western government keen to do business with the world's second biggest economy, one that is still rapidly growing.
From US President Nixon's visit more than 40 years ago, some have argued that trade and engagement with China would automatically bring political reform in its wake.
But while there have been significant improvements in the standard of living of many, the most basic political freedoms remain strictly off limits.
It is still quite possible to be sent to prison, for a considerable time, for simply demanding those freedoms.
Nobel peace laureate Liu Xiaobo is only the most famous example.
The irony is, of course, that trade has in fact made China richer and bolstered one-party rule, not weakened it.
It may not be too long before the world wakes up to the reality of the biggest economic power on the planet being an authoritarian one.
And China is now using its growing leverage to powerful effect.
Rui Chenggang, an anchor on China's state broadcaster China Central Television, suggests that the UK now needs China more than it needs the UK.
"We won't be that impressed or surprised by the size of the delegation and the eagerness they've shown to attract Chinese investment because for us this is normality, this is reality," he says.
"You go down the avenue in Beijing every day you see another national flag flying alongside China's."
Of course, no country likes to be chastised in public and many observers argue that it can even be counter-productive.
Robert Lawrence Kuhn, an adviser to the Chinese government and author of the book How China's Leaders Think, says it is much better to raise human rights concerns in private.
"I've heard some significant Chinese leaders say as much because [doing so] gives reformers in China the biggest boost."
"If you criticise us in public they say that we all have to rally behind each other and that's tactically bad as well as, maybe, rude."
And the UK is not the only country to have seen relations temporarily ruffled by the Dalai Lama.
The French and the Germans have both been through it and, despite the warnings, business ties never really suffered.
The truth is, while individual countries might find themselves falling out of diplomatic step with China from time to time, however powerful it becomes it cannot survive in isolation.
As George Osborne has pointed out this week, China now owns part of London's water supply, a share of Heathrow Airport and the British-based cereal maker Weetabix.
This latest financial deal will give its banks more freedom to operate inside the UK economy.
"There is no country in the West that is more open to investment - especially from China," the chancellor told students at Peking University.
That is all firmly in China's interests and, while words will continue to be carefully chosen, the business relationship will develop regardless.