Citigroup profits fall as trading slows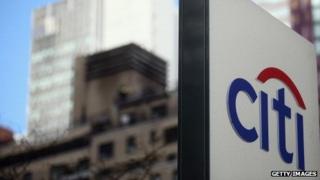 Citigroup, the third-largest US bank, has reported profits of £3.2bn (£2bn) for the third quarter of 2013.
This is a fall from the previous quarter, but up on the same period last year.
Chief executive Michael Corbat said the bank had performed "relatively well" in a "challenging" environment.
Uncertainty over whether the US Federal Reserve will unwind its economic stimulus has slowed some trading.
Net income for the third quarter of 2013 of $3.2bn was generated on revenues of $17.9bn (£11.2bn).
For the second quarter of 2013, the three months to the end of June, Citigroup reported net income of $4.2bn (£2.8bn). That was up 42% on the same period last year.
However, that figure was boosted by a big, one-off charge taken by Citigroup in the second quarter of 2012.
Citigroup has been cutting parts of its businesses, scaling back operations abroad and closing some branches.
Citi said that mortgage lending had also slumped and that its bond trading unit's revenue dropped by 26% compared with the same period in 2012.
Last week, US banking giant JPMorgan Chase reported a loss in the third quarter after setting aside $9.2bn (£5.8bn) to cover legal bills.
The bank is in talks with the US government over a potentially very large settlement regarding the sale of mortgage-related products in the run-up to the global financial crisis.