Profile: Angela Ahrendts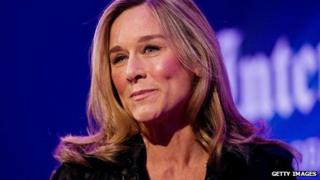 After seven years as chief executive of the luxury fashion house Burberry, and credited with rescuing an ailing, out-of-date brand, Angela Ahrendts has joined technology giant Apple.
Her departure leaves just two female chief executives in the FTSE 100.
So who is she? The American Ms Ahrendts has a long career in retail.
Born in 1960 in New Palestine, Indiana, she went to Ball State University. By 1989, she was president at the US fashion house Donna Karan.
After that, she took up a role as executive vice-president at another American brand, Liz Claiborne, which had been suffering from the decline in the desirability of traditional department-store shopping.
Image crisis
Her stewardship at Burberry, a company established in 1856, came after an identity crisis had seen its signature check pattern go from being a traditional signifier of quality - seen on the inside of many a country raincoat - to a lower-brow fan-base.
Seen at football matches on baseball caps, with fakes flooding the market, and sported head-to-toe by some celebrities and their children, Burberry had, says Douglas McNeill, investment director at the stockbrokers Charles Stanley, lost its way.
"Angela Ahrendts had a clear vision of the potential for it as a stylish high-end brand, steering it away from the old image crisis," he says.
This was done in partnership with chief creative officer Christopher Bailey, who now takes the helm at the company.
Winning in Asia
Rahul Sharma, director of retail consultancy Neev Capital, agrees. He says that focusing on the growth in demand for luxury goods in Asia was key to Burberry's success under Ms Ahrendts.
"She focused on Asia, and she led the way for other luxury brands," he says.
While cutting back on the use of the check, Ms Ahrendts established ambitious expansion plans for Asia and then the US, as well as for Burberry as a digital brand.
These worked, and the company saw its share price and profits soar. Last year, she was the highest paid chief executive in the FTSE 100, with a salary package worth £16.9m.
Charles Stanley's Mr McNeill adds: "She's wholeheartedly embraced the rise of the Asian market and in a sense has secured the company towards that part of the world, and allowed Burberry to compete with the luxury houses of France and Italy, showing a British company could compete.
"It just took an American to make it happen."
As the announcement of her departure was made, Burberry reported a 17% rise in revenues for the six months to the end of September, with a sales increase of 13% on the year before.
Total revenue rose 14% to £1.03bn.
As Mr McNeill says: "Asia growth may be slowing slightly, but the company is is good shape."
The company has pushed its perfume and cosmetics offering lately, which Ms Ahrendts recently told the BBC was part of a strategy to appeal to all levels of consumer, not just the very wealthy.
Digital push
The digital offering for Burberry has been another significant legacy, meaning that the Apple job, according to Neev Capital's Mr Sharma, is "a good fit".
Ms Ahrendts emphasised this in several interviews with the BBC, focusing on the number of minutes that browsers lingered on the Burberry website, while pushing the concept of Burberry as an interactive company.
She oversaw the live streaming of its fashion shows online and put iPads in its shops so that customers could peruse the collections.
As Mr Sharma says: "She genuinely used technology well - in terms of Burberry's presence online, but also in terms of Burberry's systems in house.
"She knows how to do technology in retail and Apple is a technology company that wants to do better at retail."
In a statement following the announcement, Apple's chief executive Tim Cook said: "She shares our values and our focus on innovation, and she places the same strong emphasis as we do on the customer experience."
So what can Apple expect from the woman who was such a visible presence as head of a FTSE 100 company? According to a BBC Radio 4 Woman's Hour profile of Ms Ahrendts, she "has not taken a day off sick in 25 years".