Alitalia shareholders back rescue deal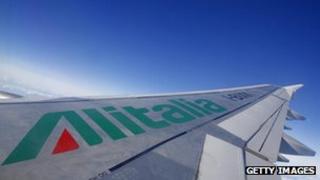 Shareholders in Alitalia have backed a move to issue new shares worth 300m euros (£255m; $405m) as part of plans to save the struggling airline from bankruptcy.
They now have until 16 November to decide whether to take up the issue.
The move comes after Alitalia's board agreed on Friday to a 500m-euro rescue package, of which the share issue is the biggest component.
Air France-KLM, Alitalia's biggest investor, owns a 25% stake in it.
Air France-KLM and the airline's remaining shareholders agreed to the share issue after a late-night meeting that finished after 02:00 BST.
The remainder of the rescue plan will be financed by the Italian postal service, which is contributing 75m euros, and by banks.
Alitalia has rarely made a profit in its 67-year history, and in the first half of this year, it lost 294m euros.
The Italian government says there will be an overhaul of the business.