Are Indonesia's elderly changing course?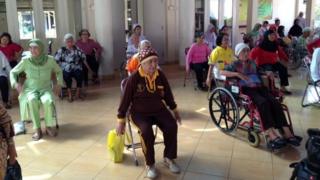 On any given Wednesday at the Yayasan Ria Pembangunan care home for the elderly, on the outskirts of Jakarta, you'll find 78-year-old Sisi Sihombing participating in a gentle exercise routine with her friends, in an attempt to keep her body fit and her mind active.
Dozens of elderly residents take part in this keep-fit workout. It's an energetic way to ward off the loneliness that old age can sometimes bring.
Most of them live in this charitable institution because they do not have families to look after them. Some pay a subsidised fee to live here, while others are accommodated thanks to the generosity of donations.
Mrs Sihombing one of the few residents with close family living nearby - but this sprightly grandmother of seven made the unusual decision to move here voluntarily, after her husband died.
"I didn't want to be a burden to my children," she tells me in her small dorm, decorated with photographs of her grandchildren.
"They have families of their own and have to live their own lives - that's why I decided it was time to move here."
'Humiliating'
But it was not an easy decision for her family to understand.
Her daughter Yoko tells me that she was devastated when her mother decided to move.
"It was humiliating, and we didn't speak to Mama for six months," Yoko says, struggling to hold back her tears.
"We are from the Batak Indonesian culture, and it is our responsibility to look after our parents in their old age. Our neighbours thought it was our decision that Mama had moved out - that we had kicked her out.
"No-one understood that she wanted to do this out of her own free will," she adds.
Though Mrs Sihombing is still in the minority - it appears to be becoming an increasingly attractive choice.
Growing demand
Tjandra Kamandari, who runs the Yayasan Ria Pembangunan home, says she has seen the number of elderly residents who voluntarily choose to enrol - despite having families willing to look after them - rise considerably during the past few years.
"Increasingly these days the elderly are looking for places like this because they are looking for friends, and healthcare facilities that are available to them on site," she tells me.
"Also, what is life like at home in Jakarta these days? Your son will work, your daughter-in-law will work, your grandchildren go to school, and the domestic staff at home can't be bothered to look after you.
"It's better to be here and have some companionship and make friends."
This is why Herman Kwik, the founder of Rukun Senior Living, decided to invest in this sector.
The retirement complex covers 35 hectares outside Jakarta and aims to provide a luxury lifestyle complete with beautifully landscaped gardens, a swimming pool, a jogging track and even fishing facilities.
It offers a number of services to residents, from regular health checks to gourmet lunches.
Mr Kwik says it was visiting the US that led him to believe this concept could work in Indonesia.
"We've seen that Indonesia is a few years behind the US in everything - fast-food trends, fashion, cuisine," he says as we walk around the well-kept grounds.
"So I thought, 'why not this segment of the market?'. Senior care issues haven't been addressed very well by the government or the private sector."
'Early days'
But accommodation at Rukun isn't cheap by Indonesian standards. A month here costs at least $1,000 (£600). And only five of the 60 rooms are occupied full time.
Mr Kwik says the market is not yet mature enough to sustain his business.
"In these early days of trying to develop this market we have a lot of vacancies, so we are trying to utilise our space," he tells me.
"We have also accommodated non-senior types of functions - like banquets, parties and events. That's what we have to do in order to pay the bills while we're trying to develop our senior market.
"There is a term for filial piety in Indonesia - durhaka - it's almost like a guilty feeling, or that you've betrayed your parents if you don't care for them until they die," he says.
"We've had enquires from many elderly residents, but then they are prohibited from enrolling because of their children."
'I'm in control'
Back at the Yayasan Ria Pembangunan, Yoko has finally accepted her mother's decision.
"It was very challenging to get over the fact that Mama decided to break ties with us and move here," Yoko says. "But I can see that she is genuinely happy now. What more can you ask for your parent?"
I ask Mrs Sihombing if she ever gets lonely.
"Sometimes," she says, smiling. "But I keep busy and my children and grandchildren are only a phone call away. And here I'm in control of my own destiny. There's no feeling quite like it."