Blackberry letter seeks to reassure customers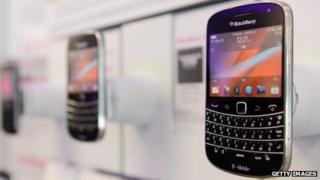 Embattled smartphone maker Blackberry is publishing an open letter to reassure customers about its future.
The letter, due to be published on Tuesday, admits the firm is facing "challenging times", but adds that it is taking measures to tackle them.
It comes just days after research firm Gartner recommended that customers should move to other technologies.
Blackberry made a net loss of $965m (£600m) in the second quarter and has agreed a $4.7bn sale deal.
The Canadian firm has agreed in principle to be bought by a consortium led by Fairfax Financial, its biggest shareholder.
"These are no doubt challenging times for us and we don't underestimate the situation or ignore the challenges," the letter says.
"We are making the difficult changes necessary to strengthen BlackBerry."
Restructuring business
The firm was once a dominant player in the smartphone sector, but has struggled to hold on to its market share amid growing competition from rivals such as Apple and Samsung.
Even the launch of new phone models have failed to spark a recovery.
The company's financial problems came to a head this year following disappointing sales of its new Z10 smartphone.
Sales were so poor that Blackberry had to write off $934m in the second quarter to account for the weakness.
Prompted by the losses, the firm has announced a major restructuring programme, which includes 4,500 job cuts - or 40% of its global workforce.
In its letter, the firm says that the restructuring will help cut it costs by 50%.
It also emphasises the fact that it has "substantial cash on hand and a balance sheet that is debt free".