UK eases rules for Chinese trading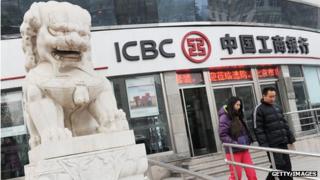 Chancellor George Osborne has announced moves aimed at making London the main centre for Chinese financial business overseas.
Mr Osborne will loosen regulation to allow the move.
Under an £8bn pilot scheme, London-based investors will be able to apply for a licence to use the Chinese currency to invest directly in Chinese shares and bonds.
Until now, they have had to direct their investments via Hong Kong.
Mr Osborne is also facilitating talks between Chinese banks and the UK banks regulator, the Prudential Regulation Authority, to allow them to establish branches for wholesale activities in London.
This would allow China's huge banks to conduct business in London with companies and financial institutions, but not to offer High Street services.
London is already the main overseas location for trading China's currency, known as the yuan or renminbi (RMB), with $5.3tn worth traded on an average day.
But strict rules on transparency and cash reserve requirements have forced China to base its three biggest banks in Luxembourg.
'Jobs for Britain'
Setting up the bank branches is good for China, as they would be able to operate under Chinese regulations.
Mr Osborne said: "A great nation like China should have a great global currency."
"Today we agreed the next big step in making London - already the global centre for finance - a major global centre for trading and now investing the Chinese currency, too."
He said the move would mean more trade, investment, business and jobs for Britain.
Discussions will begin between the Prudential Regulation Authority and Chinese banks in London.
The announcement is part of the chancellor's visit to China this week.
A joint statement from the two countries said both sides "welcomed this as an important step that cements London's major role as one of the most important global centres for RMB trading".
On Monday, the chancellor announced a simplified application process for Chinese tourists wanting to visit the UK while in Europe.