Robert Stanzione: The tech boss who says it is all about the staff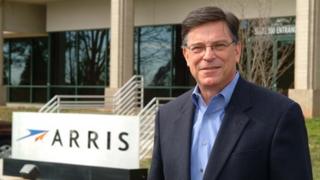 Robert Stanzione is the boss of one of the largest companies you have probably never heard of.
Mr Stanzione is chief executive of fast-growing US technology group Arris.
The company makes set-top boxes, and other pieces of hardware and software for digital television and broadband services.
Arris made the business headlines at the end of last year when it agreed a $2.35bn (£1.5bn) deal to buy the Motorola Home set-top box business from Google.
The internet giant had put Motorola Home up for sale after it had bought parent group Motorola Mobility, the main part of which was Motorola's mobile phone business.
Arris' purchase of Motorola Home was completed in the spring of this year, and saw the Georgia-based company - in terms of turnover - triple in size overnight.
It means that in the US, the Arris name will increasingly be seen on set-top boxes as the Motorola brand is retired. Whereas in the UK, Arris' technology is already used by the likes of BT and Virgin Media.
Mr Stanzione said the Motorola Home deal highlighted Arris' continuing ambition.
"As soon as we heard rumours that it was going to be up for sale, we began to look at where it would take us, it will fuel our continued growth as a company," says Mr Stanzione.
"We have tripled the size of the company over the past decade, and this deal sees us grow by that amount again. It is all credit to the team around me."
'Natural curiosity'
Chief executive of Arris since it was founded in 1995, Mr Stanzione, 65, says he has a very simple but effective strategy for leadership - bringing in the best people to work with him.
"Find the right people, keep them, and motivate them," he says.
"Let them know how important they are, and give them clear responsibility. I think that's the key to success."
Mr Stanzione says he wanted to make a difference in life.
"I have always had this curiosity, always had the desire to be around smart people, and participate in a way that would change things," he says.
"I am very excited by helping to create new solutions to old problems, being more efficient, more effective."
Mr Stanzione adds that while he has always been persistent in his career, he is happy to admit to having had some good fortune along the way.
"I have had an element of luck, it would be remiss of me not to say that. Sometimes being in the right place at the right time matters."
'Be meaningful'
With a degree in mechanical engineering from Clemson University in South Carolina, and a masters in industrial engineering from North Carolina State University, before joining Arris, Mr Stanzione held a range of engineering and management positions at US telecoms group AT&T.
His advice to young people who aspire to go on and lead a large company is to follow his example and get some good qualifications.
"First of all, get as much education as you can," he says. "Then get involved in something you enjoy and stick with it.
"But success is a very personal thing. For some, ambition is to rise to the top of an organisation - but for others it is earning a lot of money, or something else.
"I'd say your primary goal should be to be involved in something meaningful that you also enjoy."
'Lean organisation'
With Arris enjoying $1.3bn (£805m) of revenues last year, it was certainly already successful before the Motorola Home takeover.
The deal itself saw Arris pay Google $2.2bn in cash, which it funded though debt financing, and the sale of a 7.7% share in its business-to-cable TV firm Comcast.
Arris also gave Google 10.6 million of its shares, which gives Google the same minority stake in Arris as Comcast.
Mr Stanzione said Arris and its 6,500 employees were now continuing with its aim to cement its position as the world's best provider of the technology behind on-demand TV content.
Yet with rivals from around the globe, and especially China, he says he is never complacent.
"I'm paranoid every day," he says. "I'm always looking over my shoulder at the competitors, be they other strong American companies, or other rivals from Asia."
Mr Stanzione adds that the best business advice he ever received was "keep the organisation lean", and use "small empowered teams".
Now the age of a pensioner and married to wife Kaye for almost 45 years, Mr Stanzione says that while he loves spending time with his 10 grandchildren, he has no plans to retire.
"To me if you enjoy your work, and I certainly do, then that is you relaxing," he says. "If someone can look at you and not be able to tell if you are working or playing, that is a pretty good place to be."