Cameron to consult on late payments to small businesses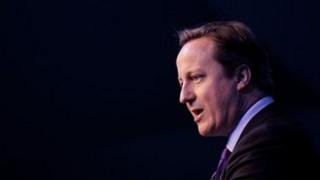 David Cameron has announced a consultation aimed at helping small businesses get paid on time.
The prime minister's move follows YouGov research showing 85% of small firms had experienced late payment over the last two years, despite an existing government-backed scheme.
Collectively, small and medium-sized firms are owed £30.2bn, data from electronic transfer firm BACs suggests.
"I am clear that more needs to be done," said Mr Cameron.
"It's not right that suppliers are not getting paid on time for the work they do and the services they provide and I know that late payment can have devastating effects on our small and medium-sized businesses," added Mr Cameron.
Code not working
The consultation comes after many criticised the effectiveness of the Prompt Payment Code, which was was established in December 2008 in order to help small suppliers get paid on time.
About 1,500 firms have signed up to it, but the Federation of Small Business (FSB) says some signatories have still managed to stretch settlement periods to as long as 120 days.
This is far longer than the limit set by an EU directive, which says business-to-business payments should be made within 60 days and public sector bills should be paid within 30 days.
John Allan, national chairman of the Federation of Small Businesses, welcomed the consultation.
"Being paid late or given extended terms can severely hamper many small firms. They simply don't have the same cash-flow buffer as large businesses," he added.
EEF, the manufacturers' organisation, also praised the plan to launch a consultation.
"Payment terms can be a major issue for smaller firms, particularly given the financing constraints and uncertainty they face," said Lee Hopley, chief EEF economist.
Consultation questions
The government's consultation will be launched later this year and will ask for views on a number of areas including:
How it can encourage greater responsibility for payment policies at senior management and board level
How it can make clear which firms are good payers and which aren't
How it can strengthen its existing government-backed Prompt Payment Code
Whether it can do more to enforce existing legislation
How it can encourage more companies to make use of their existing statutory right to interest for late payments
Whether there is a case for further legislation or penalties for firms which pay late
Whether government can do more to help SMEs to help themselves, including through new technologies and services such as electronic invoicing and mobile payments.
Responding to the government announcement, Labour's shadow business secretary, Chuka Umunna, described late payments to small business as a "scandal" which Labour had led calls to end.
"In government, it was Labour who introduced the Prompt Payment Code and toughened up rules to ensure that small firms could claim interest on sums unpaid," he added.
"David Cameron only stands up for a privileged few. The Tories may talk tough on late payment, but they have repeatedly failed to stand up to big firms that hoard cash and fail to pay their suppliers on time."