Malaysia's mobile clinics provide home care for elderly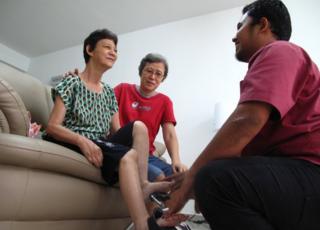 On the outskirts of Malaysia's capital city, Kuala Lumpur, a nurse in a pink uniform arrives on her motorbike at the home of one of her patients.
She is there to look after Mr O (who has asked not to be named), a member of the elderly community in the region.
Mr O has suffered two strokes. He is unable to move and relies on being fed through a tube.
For the first two years, he made many trips to hospital. One of his daughters left her job to take care of him full time.
But now, thanks to mobile health care services, a nurse arrives every day at Mr O's home to help out.
She bathes him and uses a suction to clear his throat so he can breathe more easily. The nurse's procedures have helped reduce his hospital visits.
The service, called Love on Wheels, has been a big relief to the family.
"I know for sure my dad would not have lasted this long, especially with the complications that he's gone through in the last few years," says his daughter (who, like her father, has asked to remain anonymous).
Nursing home 'dishonour'
Mr O's situation is not unique and Malaysia's population is ageing rapidly. The government says it will be classified as an ageing nation within the next seven years.
The country is not alone in struggling to deal with personal care for elderly people.
The Local Government Association (LGA) in England and Wales says social care is "substantially underfunded" and councils are under increasing pressure.
In England, 60% of councils use 15-minute home visits for elderly and disabled people, which has been described as "disgraceful".
There are reports that some German pensioners are being sent overseas for long-term care in retirement and rehabilitation centres because of rising costs.
In Malaysia, there are nursing homes available, and the government is building more, but for Mr O's family, and many like his, there is some dishonour associated with the need for such facilities.
Malaysia is a country still rooted in traditional Asian values. Children and elderly parents often live together and look after each other.
But the alternatives to family-managed home care, like Love on Wheels, are not cheap. Mr O's family would not be able to pay for the service, were it not for the insurance provided by his employer that continued after his retirement as a civil servant.
The associated costs range from $1,500 to $2,300 (£940 to £1,440) per month for physiotherapy and basic nursing care.
Mr O's wife says: "If we were to take my pension and my husband's pension it would not have covered his expenses."
To help bridge that gap, the Malaysian government wants more mobile health companies, just like Love on Wheels, which has been included under Prime Minister Najib Razak's economic transformation programme.
The government doesn't provide the funding for the service, but pairs the firm with hospitals.
The long-term hope is that mobile health services will help ease the burden of the country's crowded hospitals at the same time as turning a profit by providing rehabilitation services, basic nursing and wound management care.
'Home is the hospital'
Love on Wheels was founded by Mohan Kumar, a former banking, oil and gas executive, who looked after his elderly parents until they passed away.
Mr Mohan said he found it hard to find professional help at home for his parents. He said one of the main problems was that most nurses have full-time hospital jobs, which means they cannot be on call for families.
"I think the chore of getting to the hospital was a challenge, especially for my mother who had respiratory problems," he says.
So Mr Mohan came out of retirement in 2009 to start his business. And he says he sees real opportunities ahead.
"We have about 2.5 million Malaysians today above the age of 60. There is a need to provide this service for them," he says.
With a capital investment of $1m, Mr Mohan broke even within two years of running the business. He hopes to expand his small team of 40 to more than 1,800 across Malaysia by 2020.
"What really makes this business a success is the low infrastructure costs. Our capital expenditure is minimal, we don't build hospitals," he says.
"Your home is the hospital, so to speak. Our expenditure is primarily on human capital - training them, giving them the skills and expertise."
With Mr Mohan's expansion plans, he hopes to be able to bring down prices and continue to help families across the country who are in need.