Housing bubble risk 'extremely slim'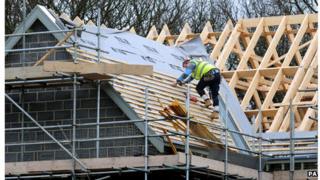 The risk of a housing bubble in the UK is "extremely slim", according to one of the country's leading economic forecasters, the EY Item Club.
In its quarterly report on the economy, the Item Club said government schemes such as Help to Buy will help boost house prices by 3.5% this year.
It also forecast that house prices will rise 6.6% next year.
Business Secretary Vince Cable is one of those concerned about the effects of the Help to Buy scheme.
Last month he said there were already signs of "serious housing inflationary pressures" in parts of the country.
And in an interview with the Financial Times on Monday, the chief executive of Lloyds Banking Group, Antonio Horta-Osorio expressed his concerns.
He said that new home building needed to be encouraged by easing planning restrictions, to avoid a "substantial" increase in house prices.
'Well-timed'
But Peter Spencer, the Item Club's chief economic adviser, said government efforts to revive the mortgage market had been "well-timed and targeted".
"Despite the recent criticism of these initiatives, the chances of seeing another housing market bubble are extremely slim," he said.
"House prices and transactions are only just recovering from the credit crunch and will be paltry in comparison to those of a decade ago.
"Household finances are also in much better shape, with debt to income ratios now at sustainable levels."
Under the second phase of the Help to Buy scheme, now in place, borrowers across the UK can put down a deposit of as little as 5% of the property price.
The government provides a seven-year taxpayer guarantee to the lender covering 15% of the loan value. It is available for properties sold for up to £600,000 in the UK.
The Item Club forecasts investment in new housing will rise by 7.5% next year and an additional 10% in 2015.
It has also raised its forecast for economic growth this year to 1.4%, up from 1.1%. And next year it expects growth of 2.4%, up from its previous forecast of 2.2%.