A one-stop shop in Hong Kong for African traders with China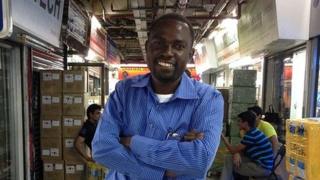 Road warrior Ramadhan Myolele, 38, is the face of the booming, informal trade between Africa and China.
Every two to three weeks, the businessman leaves his home in the town of Morogoro in Tanzania and boards a plane bound for Hong Kong.
He buys tens of thousands of dollars' worth of electronics on every trip.
Often carrying wads of cash, he bargains fiercely with wholesalers to buy new or used Chinese-made phones to sell back home.
"If you want to be a big boss, you must be physically in each and every place," he says, as he carefully packs hundreds of mobile phones in several enormous suitcases.
"Because you can understand which is required to sell there, and which is required to sell somewhere else."
Mr Myolele says he owns two stores in Tanzania, one wholesale and one retail.
He has been travelling to Hong Kong since 2005.
Before, he used to personally source for electronics in Dubai.
The managing director of Wagala Investments plans to hand carry and check-in the luggage on his return flight.
On this trip, he has purchased $40,000 (£25,000) worth of products.
"Yes the business is very good, I went to buy here and I sell there, and I get a profit compared to when I go and buy somewhere else, that's why I proceed to buy in Hong Kong," he says.
"I'm just taking Chinese models, different types of Chinese models."
Multi-storey market
Mr Myolele declines to tell me at what price he plans to sell the phones.
But other African traders say they can sell them for double or even triple the price for a healthy profit.
One out of five mobiles currently used in sub-Saharan Africa are estimated to have physically passed through Chungking Mansions at some point.
It is a 17-storey tower block located in the heart of the city's tourist district. When Mr Myolele arrives in Hong Kong, it is his first, and sometimes only, stop.
Chungking Mansions first opened in the early 1960s and now, it is possibly the most globalised building of its kind in the world.
Inside, more than 100 nationalities gather every day to shop, eat, stay at cut-price hotels and bargain for the electronics that have powered Africa's technology revolution.
About 10,000 people are estimated to walk through the building each day, with about 4,000 travellers staying overnight in private guesthouses.
Trade between China and Africa is booming, despite general economic weakness in the rest of the world.
Bilateral trade reached $200bn (£125bn) last year and could almost double by 2015, according to Standard Chartered Bank.
Much has been made of the often controversial Chinese presence in Africa.
But intrepid African traders are also making the journey to China.
'The quality is very good'
On the first-floor mezzanine where Mr Myolele is packing his suitcases, Ibrahim Zidwemba, from Burkina Faso, is finalising a deal.
He will be spending $28,000 (£17,000) on phones on this trip.
He tends to make the journey to Hong Kong four times every year.
Mr Zidwemba, 29, also used to source in Dubai.
"But now the market there is very high. That is why I choose to come to Hong Kong because here the market is very cheap.
"The quality is very good, you can get so much profit. That's why I come here to Hong Kong to buy.
"You know, everybody likes profit. If you have profit, you come," he says, laughing.
Traders come to Chungking Mansions because accommodation is cheap, costing as little as $12 (£7.50) a night.
There are plenty of wholesalers selling everything from clothing to flat-screen television sets inside.
And the entire building is welcoming toward practising Muslims, with plenty of restaurants that cater to religious dietary restrictions.
The entire business trip can be completed cheaply and quickly, usually without even leaving the building.
'They all buy electronics'
Chungking Mansions used to have a more seedy reputation, but the association of owners, led by chairwoman Lam Wai Lung, has been trying to improve its image.
Ms Lam, who arrived in Hong Kong from mainland China in 1979, made her fortune by setting up hotels and guesthouses inside the building.
She reckons that African traders now account for 20% of all guesthouse customers.
"They started coming in big numbers in only the last five or six years," she says.
"Of course, African business people had been coming before but not in such great numbers. They used to come to buy clothing, very few traders bought electronics.
"Now, what we are seeing that is that they all come to buy electronics and mobile phones. Their purchasing patterns have completely changed."
A new silk road
African traders now tend to travel directly to mainland China to buy clothing.
For electronics, they say they have greater trust in their suppliers in Hong Kong, where products are of higher quality.
It is an informal market, and exact statistics are hard by come by.
But with trade between China and Africa booming, Chungking Mansions will continue to be an important stop on the new silk road.