BT signs mobile network deal with EE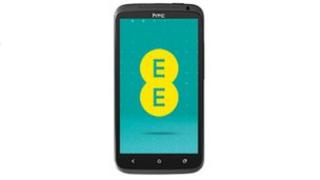 Telecoms giant BT has signed a deal with mobile phone operator EE to use its network to provide mobile services.
The deal paves the way for a return to the consumer mobile phone market for BT, which disposed of its BT Cellnet network in 2001.
It will also allow it to offer mobile services alongside its existing offer of landline, internet and TV - the so-called "quad-play" market.
EE operates the Orange and T-Mobile brands in the UK.
EE, formerly called Everything Everywhere, is a joint venture between France Telecom and Deutsche Telekom.
It runs the UK's biggest mobile network, including 4G services, which it pioneered in the UK in 2012.
BT said the deal was a "multi-year agreement, subject to final contract". It gave no details of how much the deal was worth or exactly how long it would last.
Up to now, BT has been providing corporate mobile services thanks to a tie-up with Vodafone, but that agreement has come to an end after Vodafone bought Cable & Wireless Worldwide.
In August, BT expanded its TV offer by launching its own UK sports channels.