Juventus executive Agnelli oversees club's revival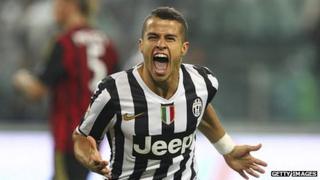 Few football executives have been asked to take the reins of a global brand shortly after a corruption scandal, while also following in the footsteps of a trio of family members.
But that is what happened to Andrea Agnelli, president of Italian giants Juventus, current champions of Italy and third in Serie A at present.
Agnelli, who studied at Oxford, is an experienced businessman having worked at Ferrari and Philip Morris, and is currently on the Fiat board.
In 2010, he became the latest member of the Agnelli dynasty - after his father, uncle, and grandfather - to take over the running of the club.
Since then he has overseen the move to a new stadium - the 41,000-capacity Juventus Stadium - as well as transforming its finances in the midst of the eurozone crisis, and also winning two league titles.
"We all know the challenges of running a professional sports franchise, it is a complex matter," he says with understatement.
"At the end of the day it is all about the results on the pitch - that can then create a virtuous, not vicious, cycle for the company."
But - as so many sports around the world discover - the move to a new, modern, playing arena, can also be a catalyst for success.
"It has been great," he says of the new stadium, pointing out that Juventus has "moved house a few times" in the past 25 years.
"We had to renew our stadium, in order to put on the best show," says Agnelli, speaking at the Leaders in Football conference.
"We are now practically sold out all the time," he adds, compared with the average crowds of 20,000 at the club's previous permanent home, the Stadio Delle Alpi.
Price constraints
Stadium revenues since the move have tripled, from 13m euros ($17m; £11m) a season, to 40m euros.
The Juventus Stadium is the only club-owned stadium in Serie A, includes the club museum, and will host the 2014 Europa League final.
Agnelli says the average price for a single ticket is 35 euros, and laments the fact that Juventus brings in roughly half the ticketing revenues of Chelsea, a club with a stadium of similar capacity.
He points out that the club is constrained in raising its prices because of the Italian economic situation, and the fact that its major competitors - playing in older stadiums - have lower prices.
Juventus is in many ways the Manchester United of Italy, with millions of fans across the country and overseas, and like the English club has won the most championships in its own country.
Last week the club announced its financial results, for the year to 30 June 2013, which revealed record revenues in the 2012-13 season.
He says that when he took over in 2010 he had twin goals - to "achieve financial sustainability and go back to being competitive on the field".
The club has also reduced its losses by 80% in two financial years, but Agnelli believes there is "still some way to go... particularly with regards to diversifying and stabilising our income".
'A country of transition'
The 37-year-old is aware that in an era of sports globalisation top brands such as Juventus are always looking to boost their appeal abroad.
"If you want to get your brand internationally known, you have to be participating in the Champions League," he says.
He says such participation must "not be seen simply as a seasonal target, but rather a recurring intermediate aim of a broader mid- to long-term strategy," which will help carry the Juve name into new global markets.
Agnelli believes the club can use digital media to help exploit this existing - and potential - fan base outside of Italy, and bring the club closer to them "on a daily basis".
On the broader national club picture, Agnelli has worries about the current economic strength of Italian football as a whole, compared with rival European leagues in England, Spain, Germany, and increasingly France.
"We used to be a destination for the top players in the world, now we are a country of transition for top players moving to other leagues," he says, pointing to how AC Milan was unable to stop Swedish star Zlatan Ibrahimovic moving to Paris Saint-Germain in France.
He says Italian clubs' current financial health is largely in the hands of two "intermediaries".
These are the TV companies, which provide a large bulk of Serie A clubs' revenues, and players, who can boost income through success on the playing field.
"We have some of the top clubs in European competitions, but we want to make sure that the whole [Serie A] economic system grows," he says.
Top of his list are new stadiums for clubs, so that Italian clubs can match their counterparts in places like England and Germany, who are bringing in more fans and revenues from their arenas.
The club has won a total of 29 titles, the last two under Agnelli's reign.
Championship hopes
The total would be higher but Juventus was stripped of two titles and relegated to the second tier, Serie B, in 2006 after being involved in the Calciopoli scandal, in which the club was accused of rigging matches by influencing officials into selecting referees sympathetic to Juventus.
However, having now transformed its fortunes Agnelli is hoping to witness the first Juventus side since the 1930s to win three championships in a row.
But there can be little doubt, with the playing strength of a plethora of top Italian sides, that the current Juventus team faces a stiffer challenge.
"We can debate whether there were the same difficulties then that we face today," he says.
"We also have European football competition to contend with now too."