UK workers are 'less happy' than their global peers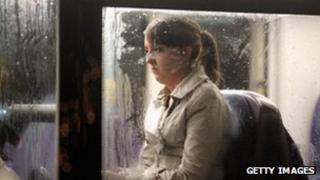 Workers in the UK are less happy than those in France, Germany, the US, Canada and Australia, said a report by recruitment agency Randstad.
The study estimated 9.9m British workers are unsatisfied with their jobs.
Randstad said the disillusionment increased turnover and absenteeism, and could account for problems of low productivity.
The survey involved 45,000 employees from 32 countries.
People at the start and end of their career are the happiest, it found.
Anxiety
In the UK, 67% of workers reported they were fulfilled, compared to 68% in France and Germany, 73% in the Netherlands, and 74% in Belgium.
The trend was replicated outside of Europe, with 70% of workers in Australia reporting they were satisfied, 73% in New Zealand, 74% in the US and 77% in Canada.
Mark Bull, chief executive at Randstad, said: "We are issuing a rallying call to employers to join us in action to address the state of fulfilment at work in the UK."
Mid-career crisis?
Job satisfaction diminishes in the middle of people's careers when they are aged between 35 and 44, research found.
Mr Bull said the research showed a mid-career crisis was a "very real phenomenon".
"Those who are midway through their career often reflect on the professional path they have taken and where that path is leading them," he said.
"And this leaves many with a feeling of anxiety that they are not fulfilled in what they do and nor are they fulfilling their potential."
Mr Bull advised employers to ensure they were hiring older workers as well as "passionate young people".