Lew: Debt limit brinkmanship very dangerous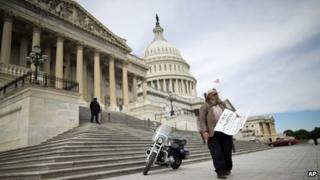 US Treasury Secretary Jack Lew has warned that pushing talks over the debt ceiling to the last minute could be "very dangerous".
He said that the US government could suddenly run out of money some time after 17 October, which would have "serious" repercussions.
He also warned that the Treasury's payment systems were not designed to work without funds for payment.
According to Mr Lew that would make it difficult to prioritise payments.
The current debt limit of $16.699 trillion was reached in May.
Since then the US Treasury has been using what are called extraordinary measures to keep paying the bills, but those measures run out on 17 October.
In his testimony before the Senate Finance Committee, Mr Lew said that the Treasury had big bills to pay soon after that date, including to hospitals and doctors under the Medicare scheme, to Social Security recipients, veterans and members of the armed forces.
Mr Lew underlined that, every week, the Treasury also has to refinance $100bn worth of debt in the form of US government bonds known as treasuries.
The US also has to pay interest on its huge debt burden.
An inability to pay that interest, or pay back debt if required, would put the US into default.
That would potentially have a "catastrophic" impact, according to Mr Lew, who cited a recent Treasury report.
Effects of a default would include a sharp fall in the dollar, a significant jump in US interest rates and negative effects on the global economy.
Shutdown impact
As well as disagreeing over the debt ceiling, US politicians have also been unable to approve funding for current federal spending.
As a result there has been a partial shutdown of government activities over the past 10 days.
Thousands of government workers have been told to stay at home.
On Thursday, URS Corp, which builds and operates industrial projects, said it had temporarily laid off about 3,000 employees due to the government shutdown.
Mr Lew said that a two-week shutdown could cut growth in the fourth quarter of the year by a quarter of a percentage point.
Unemployment
A report from the US Labor Department released on Thursday said that the number of Americans applying for benefits jumped by 66,000 last week, taking the seasonally adjusted total to 374,000.
But that total does not reflect federal workers laid off due to the shutdown.
They can apply for benefits but their number is added up separately and reported a week later.
Half of last week's rise was accounted for by California which processed a big backlog of claims.
A quarter of the applicants were from workers affected by the shutdown, such as private contractors working for the government.
Talks
It is thought Republicans are considering agreeing to an increase in the debt ceiling, but only enough to provide a temporary reprieve, while politicians negotiate a broader deal.
Meanwhile, President Barack Obama was preparing to meet senior Republicans at the White House on Thursday in the hope of finding a way out of the budget deadlock.
Mr Obama invited all of the Republicans in the House of Representatives, but their leader, John Boehner, decided instead to send about 20 members.
White House press secretary Jay Carney, however, complained that hardline Tea Party Republicans were not attending the discussion.
On Wednesday, Mr Obama met House Democrats at the White House and told them he would prefer a long-term increase to the nation's debt ceiling.
But the president said he was willing to accept a short-term rise in the borrowing cap to "give Boehner some time to deal with the Tea Party wing of his party", Representative Peter Welch told the Associated Press news agency after the meeting.
Markets
News that senior Republicans will visit the White House helped to lift US stocks on Thursday. But analysts remain cautious.
"It would be a minor sign of hope there may be some more positive news coming in the next couple of days, hard to make much more out of that," said Fred Dickson, chief market strategist at D.A. Davidson & Co.
"The markets right now are betting somebody will blink between now and October 17," he said.