The multi-tasking Bank of England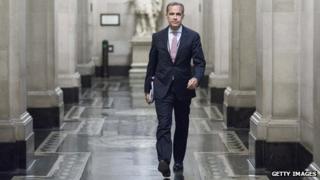 Life used to be easier for central banks.
They targeted an inflation rate, usually 2% for developed economies.
And if they missed it, well, they're targeting it for the medium term anyway, so it'll be all right in two years' time.
But life has now become more complex and, like many of us, they need to multi-task.
They not only must target inflation, but unemployment, and also credit.
New challenges
The Bank of England targets price stability and has pledged to keep interest rates low at least until the unemployment rate falls to 7%.
It also has to keep an eye on financial stability.
The latter has been in the spotlight because of the government's Help to Buy scheme, which some have blamed for pushing up house prices.
The most recent survey from the Royal Institution of Chartered Surveyors showed that house prices were rising at the fastest rate in 11 years. Also, the Halifax has reported that house prices have had their biggest annual rise in three years.
Today's Bank of England's decision puts these new challenges into the spotlight.
No change is expected, as the Bank is likely to hold rates at 0.5% and announce no further cash injections.
But, the accompanying discussions will almost certainly cover how to manoeuvre in this new environment.
When I wrote about this issue before, the Bank of England had the unenviable task of worrying about above-target inflation while credit was anaemic.
By loosening monetary policy to boost credit, it risked injecting more cash into the economy that could raise inflation even further. That was a tough trade-off.
Bigger impact
So, the Bank of England came up with something more targeted - the Funding for Lending scheme that offered cheap loans to banks that in turn made loans to companies, hopefully, helping the smaller ones.
The government also initiated its Help to Buy programme that supported mortgage seekers, including those with only a small deposit to put down.
It arguably had a bigger impact in terms of loosening credit. As I mentioned before, house prices have risen even beyond London. However, critics say that the programme doesn't boost the supply of housing, which is the real issue.
For the Bank of England, it poses a dilemma. Credit is looking better this year, according to the Bank, but is hardly surging ahead in the entire economy. It is though, it seems, in the housing market.
Even in the Funding for Lending scheme, their last Credit Conditions survey points to growing demand for mortgages. Ideally, more loans are needed for small businesses who are the main job creators in the economy.
So, the issue is one of distortion in the credit market. It implies that the Financial Policy Committee may need sector-specific tools, say to specifically curtail risky-seeming mortgages if that becomes problematic.
Crucial discussions
No doubt this will be a hard call for the new governor Mark Carney and the members of the Monetary and Financial Policy Committees that have to coordinate the policies to achieve monetary as well as financial stability.
For what it's worth, at least the price and credit pressures are moving in the same direction. But, it will be tricky as the economy is still more than 3% below its pre-recession level. So, any tightening of credit conditions could hurt the recovery, even if it is worryingly unbalanced.
Today's lack of action from the Bank of England is likely to mask some crucial discussions. The minutes of the meeting when they are released later this month will be telling.